Last Updated On 20 July,2016 10:32 am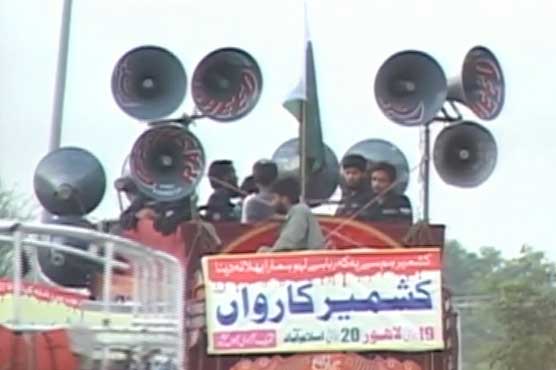 Participants were greeted warmly at its every stop between Lahore and Gujranwala
LAHORE (Dunya News) – Rally in support of Kashmiris against Indian brutality, called Caravan for Kashmir is on way to the federal capital supporting hundreds of flags and blasting nationalist songs, reported Wednesday.
Chief of Lashkar-e-Taiba and its arm, Jamaatud Dawa, Hafiz Muhammad Saeed and Liaquat Baloch led the rally that started from Masjid-e-Shuhada on the Mall Road.
---
Participants clicked atop a bus in the morning today
---
Rally's first stop was Shahdara from where it ran to Muridke and reached Gujranwala through Kamoke. Participants were greeted warmly at every stop.
Hafiz Saeed-led supporters of victimized Kashmiris stayed the night in Jhelum and left for the federal capital in the morning.
Abdullah Gul, son of former chief of Inter-Services Intelligence Hamid Gul, Jamaat-e-Islami leader Sirajul Haq, members of Muslim League-Zia, Izazul Haq, son of former dictator Ziaul Haq are said to be among those rallying.
Jamiat Ulema-e-Islam-Sami chief, Samiul Haq is also attending according to the sources.
---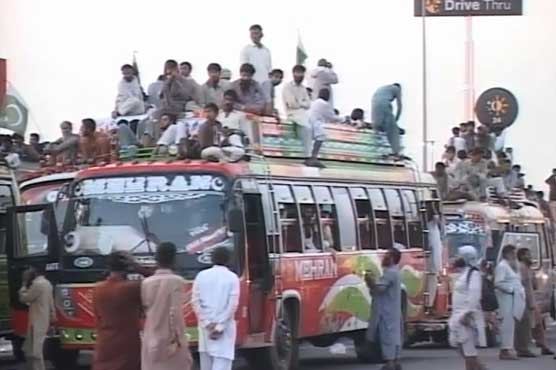 Participants board buses at Jhelum Toll Plaza after spending the night
---
Different people who addressed the rally at different points in the journey said that Indian extremism on Kashmir has gone through the roof this time but determination of Kashmiris is not anywhere near collapse.
Meanwhile, the nation is observing a black day today against killings of Kashmiris in cold blood by Indian troops.
Prime Minister Nawaz Sharif had called to observe a black day to express solidarity with the victimised families in Indian-held Kashmir.
The latest skirmishes between freedom fighters and Indian forces started after Burhan Wani, commander of a group striving for right to self determination of all Kashmiris was gunned down.
Earlier on Tuesday, the locals observed Accession to Pakistan Day in light of the resolution that was adopted in 1947 through which Kashmiris had demanded to be made a part of Pakistan under two-nation theory and Partition Plan.