Last Updated On 15 June,2016 11:03 pm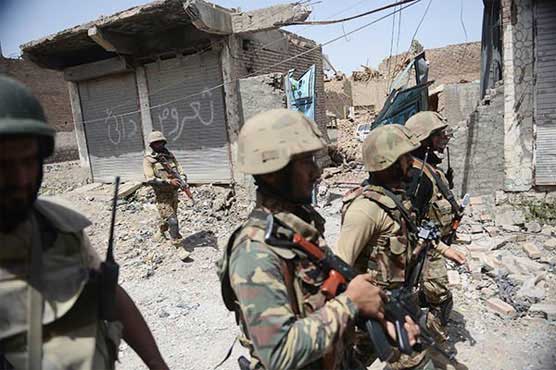 Operation Zarb-e-Azb was launched in mid-2014.
PESHAWAR (Web Desk) – Operation Zarb-e-Azb has successfully completed its two years today (Wednesday).
The army launched the operation in mid-2014, in a bid to wipe out militant bases in the North Waziristan tribal area and bring an end to the near decade-long insurgency that has cost Pakistan thousands of lives.
Pak Army says it has killed more 3500 terrorists in the tribal zone, with more than 400 soldiers having lost their lives.
The operation was intensified after the Taliban massacred more than 150 people, the majority of them children, at a school in the northwestern city of Peshawar in December 2014.
Global leaders have praised the operation as a success and security has improved noticeably in Pakistan since it was launched, with militancy-related violence in 2015 dropping to its lowest level since 2007, the year the Tehreek-e-Taliban Pakistan (TTP) was formed.
Earlier on Tuesday, General Raheel Sharif, Chief of Army Staff (COAS) visited forward locations in North and South Waziristan and spent whole day with the tribes and troops busy in consolidation phase of Operation Zarb-e Azb.
COAS was given detailed briefing on ongoing Operations and comprehensive Rehabilitation work and its effects on the social landscape of area.
While acknowledging exceptional achievements, courage, determination and sacrifices of troops in achieving the Operational gains, General Raheel Sharif said Zarb-e-Azb was launched against terrorists of all hues and colour and sanctuaries of terrorists have been dismantled without discrimination.
He said that operation Zarb-e-Azb is in its final stage in the fewer left out pockets. Pakistan Army with support of the entire nation has achieved unparalleled successes in fight against terrorism.
General Raheel Sharif also appreciated the support of the tribal brethren in combating terrorism and acknowledged their sacrifices. He assured them that terrorists would never be allowed to return and Army will not go back till the job is fully done.
"As return of TDPs and their resettlement works continue so as to complete by end year 2016, our focus within FATA will now be on more efficient border management to prevent cross border movement," he added.
General Raheel said for enduring stability, intelligence-based operations (IBOs) and combing operations will continue with same vigor across the country.
---
WATCH VIDEO: