Economic development linked with peace in Karachi: General Raheel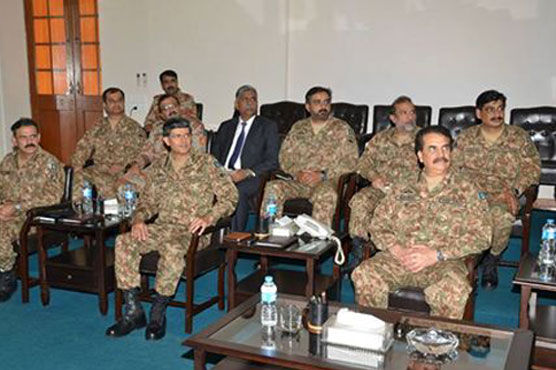 Purpose of the Karachi operation is to attain a city which is free from all sorts of terrorism: COAS
KARACHI (Dunya News) – Chief of Army Staff (COAS) General Raheel Sharif on Wednesday paid visit to the Corps Headquarters in Karachi where he led an important meeting in regards to the ongoing operation in Karachi and was briefed regarding the important developments in it, reported Dunya News.
According to the Inter-Services Public Relations (ISPR) department, General Raheel expressed his satisfaction about the progress rate of the operation and the achievements made in it. He praised the role played the law enforcement agencies regarding establishing peace in the city and paid respect to the sacrifices made during the operation.
General Raheel stated that the uplifting of the economy and the economic activities are directly linked with peace in Karachi. He added that the purpose of the operation is to attain a Karachi that is free from all sorts of terrorism and that all facilities will be put to their best use to achieve this goal.
Director General (DG) Inter-Services Intelligence (ISI), Corps Commander Karachi, DG Military Intelligence (MI), DG Military Operations and DG Rangers were also part of the meeting.
General Raheel also addressed the participants of the Air-war course. He discussed international affairs, regional security during his address, adding that the war against terrorism will be brought to a logical end.