Panama Leaks: Imran Khan demands investigation against Sharif family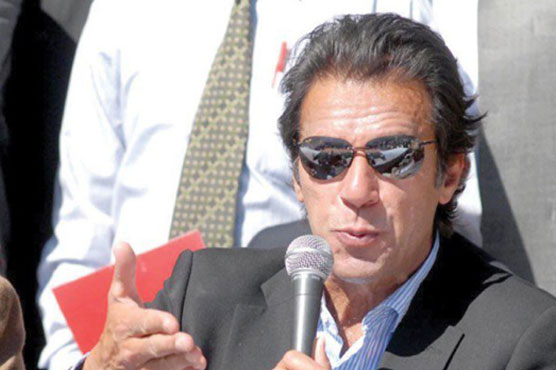 "How can a PM hiding his own assets ask others to declare theirs?"
ISLAMABAD (Dunya News) – Pakistan Tehreek-e-Insaf (PTI) Chairman Imran Khan while addressing to the media on Monday after the onset of the Panama leaks has demanded that investigation should be carried out against Prime Minister (PM) Nawaz Sharif and his family, who have been allegedly involved in making vast, unchecked investments overseas, reported Dunya News.
Addressing a press conference, Khan said that the Panama leaks cannot be referred to as a conspiracy against the rulers as Panama is a place where all the money earned through corruption is deposited. He added that after this striking revelation, investigations have begun in Australia and Hong Kong.
He said that he has been raising his concerns in this regards for the past 20 years but now the looters have been curbed, "thanks to God Almighty". He stated that there should be no doubts over the credibility of this piece of information as this is a chunk of data that has been retrieved from the data-bank.
Khan said that Maryam Nawaz stated that no one belonging to Sharif family has his or her assets abroad whereas Sharif family possesses assets in other countries under the name of their children, Khan said. He added that Hussain Nawaz had idea that certain news in this regards may become public soon thus he accepted that companies are being operated by Sharif family in other countries. Khan added that Sharif family is stuck now therefore they are unable to tell that through which sources have they made their earnings.
Referring to PM Nawaz Sharif, Khan inquired that "from where has all the money come from?". He added that the country's Prime Minister and his daughter Maryam Nawaz have not declared their complete assets. "How can a PM hiding his own assets ask others to declare theirs?" Khan asked.
Khan further said that Mian sahib has transferred his money abroad through money laundering. PTI Chief was of the view that if investigations after the onset of the Panama leaks can be initated in Hong Kong and Australia then the National Accountability Bureau (NAB) must start its investigation in this regards against those alleged in Pakistan as well. He further said that if NAB wishes to maintain its image in Pakistan then it must proceed with the investigation at once, adding that if NAB is unable to do so then it must be shut down.
Referring to Pakistan Muslim League-Nawaz (PML-N) workers, Khan said that those who belong to the party and are concerned about the country need to talk on this, adding that this is not a matter of concern for his children instead it caters to the future of all the children of Pakistan.
He criticised the government by stating that there is money to invest in mega projects but there is no money to uplift the education and health sector of the country. He said that any worker of the PTI can ask him about his assets as this is not the Mughal era where questioning is shunned.
He stated that the accustations are not being labeled by him alone but are made through international organisations, adding that if he be ruling the country, he will throw these perpetrators behind bars.
---
---