Last Updated On 04 April,2016 05:20 pm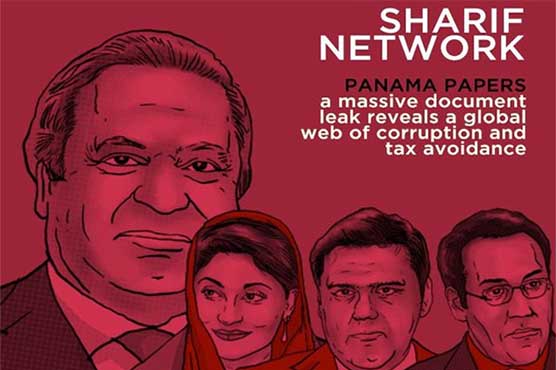 Mossack Fonseca is the law firm whose documents have been leaked
PARIS (Dunya News/AFP) - A massive leak of 11.5 million documents has exposed secret offshore dealings of celebrities and world leaders.
An investigation by more than 100 media groups, described as one of the largest such probes in history, revealed the hidden offshore assets of around 140 political figures including Prime Minister Nawaz Sharif's family.
The vast stash of records was obtained from an anonymous source by German daily Sueddeutsche Zeitung and shared with media worldwide by the International Consortium of Investigative Journalists (ICIJ).
The documents, from around 214,000 offshore entities covering almost 40 years, came from Mossack Fonseca, a Panama-based law firm with offices in more than 35 countries.
Twelve current or former leaders are named in the investigations, including the prime minister of Pakistan, the president of Ukraine and the king of Saudi Arabia, as well as sporting and movie stars including Jackie Chan.
The report reveals that Hussain and Hasan Nawaz Sharif, and Mariam Safdar, the sons and daughter of Prime Minister Nawaz Sharif, set up at least four offshore companies in British Virgin Islands (BVI). These companies owned at least six upmarket properties overlooking London's Hyde Park.
Thousands of Mossack Fonseca (MF) documents reviewed and subsequent enquiries reveal that the Sharif family mortgaged four of these properties to the Deutsche Bank (Suisse) SA for a loan of GBP 7 million and the Bank of Scotland part financed the purchase of two other apartments.
RELATED DOCUMENTS:
Mariam Safdar, beneficial owner of two offshore companies
Mortgage signed by Mariam and Hussain Sharif
Company transferred shares were worth £5.5 millions to Hasan Sharif
---
---
Immediately reacting to the report, Pakistan Tehreek-e-Insaf (PTI) chairman Imran Khan urged the National Accountability Bureau, the Federal Bureau of Revenue (FBR) and the Election Commission of Pakistan to take action against Sharif family.
Khan posted a message on Twitter, stating: "Our stance vindicated again as Sharif's wealth stashed abroad exposed."
On the other hand, Hussain Nawaz has rejected the Panama leaks, claiming that offshore companies are result of hard-earned money and there is no corruption done.
Talking to a private television channel, Hussain said that his family had done "nothing wrong". "Those apartments are ours and those offshore companies are also ours," he said.
"There is nothing wrong with it and I have never concealed them, nor do I need to do that."
"It is according to British law and laws of other countries that it is a legal way to avoid unnecessary tax via offshore companies," he said.
He is not a resident of Pakistan since 1992. Hussain said that Pakistan's tax law states if one is living abroad for more than 138 days he is not liable to declare assets.
Regarding Khan's call for the National Accountability Bureau (NAB) to investigate, he said "we voluntarily present ourselves before it or any other judicial and investigative institution in Pakistan".
Ali Nadir, a financial analyst, said the use of offshore companies was in many cases legitimate.
But, he added: "I believe political and business leaders will be hard pressed to take the privacy defence given the worldwide move towards a better track of money, tax evasion, laundering and corruption.
"This may also start more locally focused probes as there are likely to be disclosure issues."
---
SECRET HIDEAWAYS IN TAX HAVENS BY OTHER POLITICIANS, CELEBRITIES
---
Covering 40 years of emails, financial records and passport details, an investigation by more than 100 media groups shows how some of the world's most powerful people have secreted away their money in offshore jurisdictions
The allegations made in Sunday's release based on documents from the law firm state that banks, companies and aides close to Russian President Vladimir Putin secretly shuffled as much as $2 billion using offshore companies, gaining hidden influence in the country s media and automotive industries. The Kremlin has accused the ICIJ of launching a misleading "information attack".
Iceland's Prime Minister Sigmundur David Gunnlaugsson and his wife used an offshore company, Wintris Inc., to hide millions of dollars of investments in three major banks during the financial crisis. He has denied any wrongdoing but faces a vote of no confidence this week.
Two leaders who have staked their reputations on pushing for transparency -- Chinese President Xi Jinping and British Prime Minister David Cameron -- have at some point had family links to offshore companies.
Mossack Fonseca worked with at least 33 people and companies blacklisted by Washington because of business links to Mexican drug lords, terrorist organisations or rogue nations, including North Korea. One supplied fuel for planes the US alleges Syria s regime used to bomb its own citizens.
The firm's customers include Ponzi schemers, drug kingpins, tax evaders and a US businessman convicted of travelling to Russia to have sex with underage orphans, who signed papers for an offshore company while in jail.
The files also identify a convicted money launderer who claimed he d arranged a $50,000 illegal campaign contribution used to pay the Watergate burglars, 29 billionaires from Forbes rich list, and martial arts film star Jackie Chan.
FIFA's ethics committee member Juan Pedro Damiani had business ties with three men indicted in the corruption scandal engulfing football s governing body -- former FIFA vice president Eugenio Figueredo as well as Hugo Jinkis and his son, who are accused of paying bribes for broadcast rights in Latin America.
The world's best football player, Lionel Messi, and his father own a shell company, Mega Star Enterprises, previously unknown to Spanish investigators probing the Barcelona forward s tax affairs.
Suspended UEFA chief Michel Platini, who is serving a six-year ban from football for over a $2 million payment from FIFA president Sepp Blatter, turned to Mossack Fonseca to help him administer an offshore company created in Panama in 2007.
More than 500 banks, their subsidiaries and branches have worked with Mossack Fonseca since the 1970s to help clients manage offshore companies. UBS set up more than 1,100 and HSBC and its affiliates created more than 2,300.
The leaks allege Indian film industry s most revered senior actor, Amitabh Bachan, his daughter-in-law, Aishwarya Rai Bachchan and Jackie Chan among other notable people from different walks of life.
---
WATCH VIDEO BELOW: