Last Updated On 13 February,2016 12:42 pm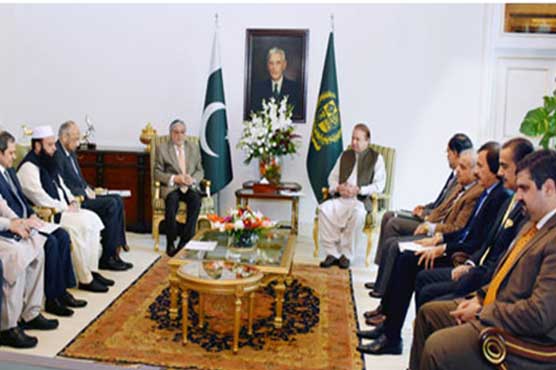 PM Nawaz met a group of Pakistan's leading businessmen in Islamabad.
ISLAMABAD (Web Desk) - Prime Minister Nawaz Sharif has announced that Qatar has decided to employ an additional one hundred thousand skilled Pakistanis in near future.
Talking to a group of leading businessmen of the country in Islamabad on Friday, Nawaz Sharif said the Qatari leadership has felt pride in the technological advancement and excellence of Pakistan's defence production industry.
---
Prime Minister Muhammad Nawaz Sharif met with a group of leading businessmen of Pakistan at PM House today. pic.twitter.com/Q7KwoTC3Xx

— PML(N) [Official] (@pmln_org) February 12, 2016
---
The business leaders briefed the Prime Minister about existing business environment in Pakistan and shared their proposals for achieving rapid growth in Pakistan's economy.
The participants also requested the Prime Minister for zero rated sales tax regime for export sector to facilitate export led growth.
The Prime Minister agreed to this proposal and directed for introducing the regime from first July this year and also constituted a committee to evaluate the proposals given by the participants for coming up with firm recommendations within next 10 days to reach at final decision.
On the occasion, the premier termed the recent LNG Agreement with Qatar as a breakthrough for Pakistan's self-sufficiency in energy.
He said the LNG bought from Qatar at a very low price will not only cater for the CNG Sector, industrial, commercial and domestic consumers but will also help in reinvigorating country's non-efficient power generation plants into high efficiency low cost power plants.
Nawaz Sharif said energy sector was put on priority to generate 10,000 MWs of affordable electricity till 2018 that would lead to end of load-shedding and reduction in cost of electricity.
Pakistan currently faces a severe shortage of natural gas, both for its electricity generation and industrial use.
The deal was signed on the first day of two-day visit to Qatar by Pakistani Prime Minister Nawaz Sharif.