Last Updated On 10 February,2016 04:10 am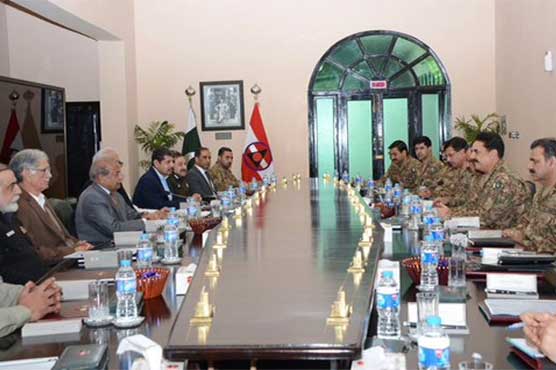 Army Chief attended a special apex committee meeting in Peshawar.
PESHAWAR (Web Desk) – A special provincial Apex committee meeting of Khyber Pakhtun Khwa and FATA was held at Peshawar Corps Headquarters today (Tuesday) to review the progress of ongoing military operations including IBOs with special focus on retrun of Temporarily Displaced Persons (TDPs).
Chief of Army Staff (COAS) General Raheel Sharif, Governor, Chief Minister KPK, Peshawar Corps Commander, senior provincial and FATA Secretariat officials attended the meeting.
---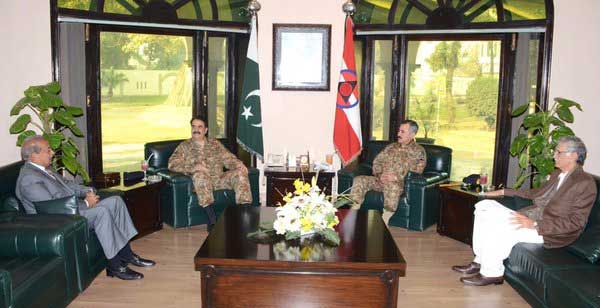 ---
General Raheel Sharif, while paying rich tributes to the resilience and sacrifices of the people of FATA and KPK said: "With unflinching resolve and courage, our proud tribesmen of FATA and people of KPK stood up to atrocities of the terrorists, pushed them back and marginalized them in the society," which deserves highest of accolades.
COAS said that after successfully evicting terrorists form their sanctuaries and restoring writ of the state, we are in the most difficult phase of the operation, physically rebuilding the war-damaged areas, resettling of IDPs and eventually establishing an administrative system that focuses on the needs and aspirations of the people.
"Together, Inshallah, with our tribal brethren we shall ensure that terrorists and their facilitators are never allowed to return to these areas," the Army Chief emphasized.
He vowed to ensure a timely and dignified return of TDPs to resettle them in their respective homes and reiterated his commitment with tribal brethren, to rebuild the area and revive entire socio-economic infrastructure.
General Raheel also emphasized on all concerned to expedite the resettlement process and meet time lines by removing impediments which are causing delay in timely completion of the work.
On the occasion, the Governor and Chief Minister KPK appreciated the whole hearted support of Pakistan Army and reiterated the resolve of FATA and the provincial government to rid the province of terrorism and extremism and pave way for development and well being of the people.
Some 93,000 families — up to 750,000 people — were displaced inside Pakistan after Pak Army launched a long-awaited offensive in June 2014 against Taliban and other foreign militants, who have long used the lawless tribal region as a launch-pad for attacks.
---
WATCH VIDEO BELOW: