Last Updated On 04 February,2016 06:17 am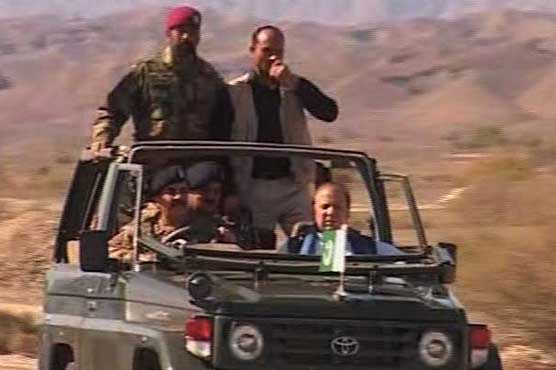 Nawaz Sharif and Army Chief inspected the project after inauguration ceremony in Hoshab area.
QUETTA (Web Desk) - Prime Minister Nawaz Sharif on Wednesday inaugurated 193-kilometres long Gwadar-Turbat-Hoshab Motorway (M-8) in Hoshab area of Southern Balochistan.
Addressing the inaugural ceremony, he said the government is constructing a network of roads to connect all parts of the country with each other for development.
These projects will bring huge benefits for the country and it will also connect Pakistan with Central Asian Republics, China and Afghanistan, he added.
The Prime Minister said the project has great importance for the development of the country.
He said Balochistan is being given preference for development, and equal allocations are being made for the province.
Nawaz Sharif also announced three other road projects. He said Quetta-Khuzdar highway will be dualised, and work on Baseema-Khuzdar, Shahdadkot highway and Bela-Awaran highways will start soon.
Nawaz Sharif said several projects have been initiated to link Gwadar with the rest of the country. He regretted that in the past, mineral resources of the province were not properly utilized and the present government is committed to use them for progress and development of Balochistan.
The Prime Minister referred to mega projects like Diamer Bhasha dam, Dasu Dam and Bunji project and said each of them would generate 4000 mw of electricity.
Nawaz Sharif lauded Army Chief General Raheel Sharif for his whole hearted support in addressing problems of Balochistan and welfare of its people.
Later, Nawaz Sharif and the Army Chief drove in a car together to inspect the project.
---
WATCH VIDEO BELOW:
---
Earlier today, General Raheel Sharif inspected new roads being built by Army engineers as part of the China Pakistan Economic Corridor (CPEC).
General Raheel Sharif lauded the pace and quality of work done by the Frontier Works Organisation (FWO).
In Pasni, the COAS held meeting with Balochistan Governor, Chief Minister and Chief Secretary.
According to DG ISPR Lt Gen Asim Saleem Bajwa, total road being built by the FWO for CPEC is 870 KMs long, out of which, 632 KMs road has been completed within last one and half years.
The CPEC involves energy and infrastructure projects linking the neighbors economies and creating an "economic corridor" between Pakistan's Gwadar port and China's western Xinjiang region.
The corridor consists a network of roads, railways and pipelines.
Militancy in the region poses a major threat to the corridor but Pak Army said it was tackling security risks by setting up a special division for the corridor, including nine army battalions and paramilitary forces.
Addressing a seminar in Quetta on Wednesday, Army Chief General Raheel Sharif said war against terror will continue till its logical end.
He said Zarb-e-Azb operation enjoys the support of people of the country from all walks of life.
He said security agencies and the people of Balochistan have defended the integrity of Pakistan with unflinching resolve for which they deserve special appreciation.
The Army Chief stressed the need for involving youth for enduring peace and prosperity in Balochistan.
He said now over 18,000 youth from all parts of Balochistan have joined Armed Forces and Frontier Corps in recent times.
The Chief of Army Staff also announced to set up a campus of National University of Science and Technology in Quetta.
---
TO WATCH EXCLUSIVE SHOW ON CPEC, CLICK FOLLOWING LINK
http://video.dunyanews.tv/index.php/en/pv/Mahaaz/14098/ep-14606/All/2016-01-02#.VrGjBLJ94dU