Last Updated On 05 December,2015 02:30 pm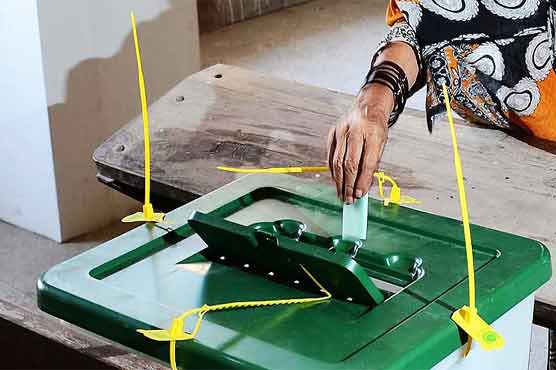 The move came after the decision of the panchayat which prohibited the women from voting.
LAHORE (Dunya News) – The third and last phase of local body elections in Punjab was also not spared from mismanagement and other issues as women in the Khushab district were forbidden to cast their vote on Saturday.
According to details, the move came after the decision of the panchayat which prohibited the women from voting in union council Sandral and polling station Ghagh Kalan.
The Secretary to Chief Election Commissioner (CEC) Babar Yaqoob visited the control room established in federal capital to monitor electoral process.
CEC and Secretary CEC along with other officials also monitored electoral procedure at St. Mary School and Defence Public School.
While talking to media, Secretary CEC said that the election where the women were barred from voting can be declared null and void. He further hoped that maximum turn out would be observed today.
Later, he contacted District Returning Officer (DRO) Khushab and expressed displeasure over depriving women from their vote right and directed him to suspend the election in the district if evidence related to the issue is found.
In some cities election process failed to start on time which created problems for the voters. Polling in Muzaffargarh's UC-35 Rangpur, Shorkot's polling station no.8, Quaidabad's ward no.12 and Rojhan took a late start as electoral staff failed to reach on time.
Besides this, mobile phones were also being used freely inside polling station no.3 of Jhang despite of Election Commission's ban.
On the other hand, polling stations in Rawalpindi underwent a power-cut due to which the polling staff and voters find it difficult to carry on the election procedure.
Rawalpindi's UC-5 and UC-6 also had a troublesome start as voters lined up outside the polling station but had to face delay as no staff was present there to initiate the election process.
Moreover, electoral staff in UC-76 was not even provided with chairs as a result of which lady presiding officers had to perform their duty while standing.
Also Read: LIVE - Polling for 3rd phase of LG elections begins in Punjab, Sindh
Polling for the third and final phase of Local Government (LG) elections in twelve districts of Punjab and six districts of Sindh is underway which will continue until 5:30pm.
The six districts of Sindh are West Karachi, South Karachi, East Karachi, Korangi, Central Karachi and Malir while those of Punjab are Layyah, Rajanpur, D.G. Khan, Muzaffargarh, Rawalpindi, Jhang, Khushab, Multan, Sialkot, Narowal, Rahim Yar Khan and Bahawalpur.
A fierce competition is expected between Pakistan Muslim League Nawaz (PML-N) and Pakistan Tehreek-e-Insaf (PTI) in Punjab while mainly candidates of Muttahida Qaumi Movement (MQM), Jamat-e-Islami (JI) and Pakistan Peoples Party (PPP) will battle in Karachi.