Last Updated On 05 December,2015 07:20 am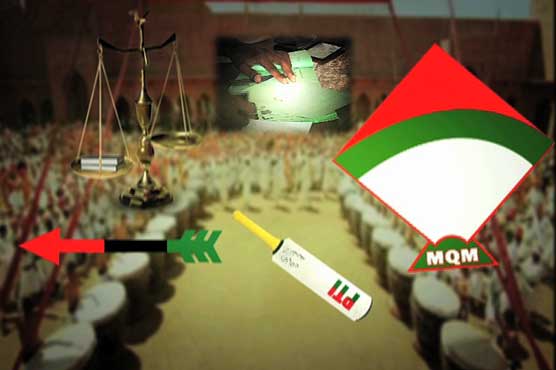 Polling will be held from 7:30am to 5:30pm.
LAHORE (Dunya News) – Punjab and Sindh are all set for the third phase of Local Government (LG) elections as polling begins in a few hours time. Polling will be held from 7:30am to 5:30pm on Saturday.
The Local body elections will be held in 6 districts of Karachi, namely West Karachi, South Karachi, East Karachi, Korangi, Central Karachi and Malir while polling will be held in 12 districts of Punjab which include Layyah, Rajanpur, D.G. Khan, Muzaffargarh, Rawalpindi, Jhang, Khushab, Multan, Sialkot, Narowal, Rahim Yar Khan and Bahawalpur.
A fierce competition will once again be seen between Pakistan Muslim League Nawaz (PML-N) and Pakistan Tehreek-e-Insaf (PTI) in Punjab while candidates of Muttahida Qaumi Movement (MQM), Jamat-e-Islami (JI), Pakistan Peoples Party (PPP) and PTI will battle it out in Karachi.
Elections have been delayed in 16 union councils of Rawalpindi due to court interventions.
The Election Commission of Pakistan (ECP) has also established a control room in Islamabad which will work till the finalization of results.
The Control Room will receive complaints regarding irregularities in the polling process and will take action for their redressal.
The nomination papers of 37,532 candidates were approved by the election commission earlier. However, 5,164 candidates had withdrawn from candidacy leaving 31,848 contenders in the field.
These elections will decide as to who will rule Karachi. Citizens will exercise their voting rights to elect a new Mayor for the provincial Capital. 4,141 polling stations have been established in the city, out of which 1,791 stations were declared extremely sensitive while 2,116 were declared as moderately sensitive. Number of registered voters in Sindh's metropolis is 7,082,319.
In Sindh, the green coloured ballot papers have been designated for the Chairman and Vice-Chairman positions. Off-white coloured ballot papers have been designated for the position of General Councillor while blue was the colour of choice for ballot papers of District Council.
Polling equipment was provided to the polling staff for the 3rd phase of the local body elections. However, it was a test for the Presiding Officers (PRO) to obtain the equipment in Karachi as the election staff didn't arrive to provide them with the equipment after inviting them. Open violation of the code of conduct was observed in Multan in the distribution of the polling equipment.
Rhetoric of big promises and claims dominated the election campaigns of the political parties once again as each candidate tried to convince people to cast their vote for them. Supporters were earlier seen chanting slogans and dancing on the streets to back their nominated candidates.
At least 18 candidates have won unopposed which include 15 of district councils and three of Municipal Corporation. Meanwhile in Karachi, locals will be electing their candidates after as many as twelve years.
---
Security arrangements
---
Karachi police have finalized the security plan for the local body elections in Karachi. More than thirty thousand policemen will be on duty in the big city on the day of election to keep peace during the polls while ten thousand and three hundred policemen will be appointed in the East Zone.
In the West Zone, fifteen thousand and one hundred while in the South Zone more than five thousand security officers will be appointed. Korangi district of Karachi has been declared the most sensitive area where all of the four hundered sixty six polling stations have been declared sensitive. Police and rangers are ready to tackle any emergency in the area.
Earlier in the Islamabad LB polls, Pakistan Muslim League-Nawaz (PML-N) led the charts while Pakistan Tehreek-e-Insaf (PTI) secured second position. The ruling party had secured 21 seats while PTI had managed to win 16 of the seats.