Last Updated On 29 November,2015 03:36 pm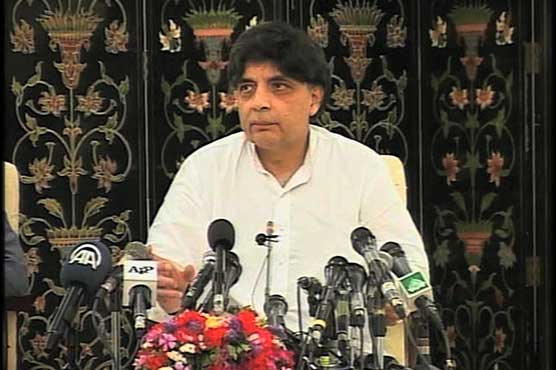 Govt. ready to make amends if MQM, PPP have any reservations about the operation, says Ch Nisar.
WAH CANTT (Dunya News) – Federal Minister for Interior Chaudhry Nisar Ali Khan on Saturday stated that Karachi's conditions were improving since an effective operation was launched against extremist elements in the city. Nisar also stated that the operation will be intensified in the coming days.
Speaking with the media at Wah Cantt, the Interior Minister said that Karachi's situation required an operation, which was started after a complete consensus with all the political parties.
Nisar stated that the government was ready to make amends if Muttahida Qaumi Movement (MQM) and Pakistan Peoples Party (PPP) have any reservations regarding the ongoing operation.
Referring to the targeted oppression against journalist community in the city, Nisar stated that journalists were being murdered in the city a few years back and nobody was willing to register their cases. Nisar further stated that regarding the matter of provision of security to journalists, the Federal government is already discussing the matter with Provincial government.