Last Updated On 21 November,2015 About 6 years ago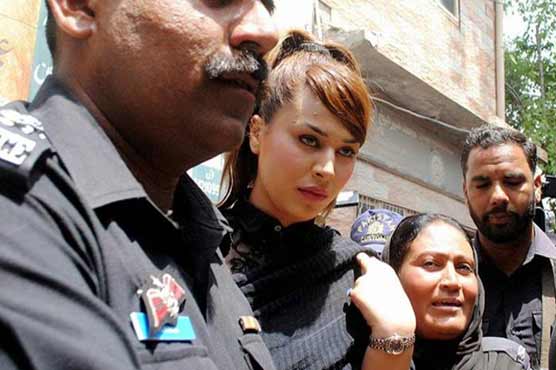 Ayyan Ali has been banned from going abroad for being involved in money-laundering case
RAWALPINDI: (Dunya News) – Model Ayyan Ali's name has on Friday been added to Exit Control List (ECL) and has been banned from traveling abroad due to her involvement in money-laundering case, reported Dunya News.
According to immigration officials, all airports in the country, including those of Lahore, Karachi, Islamabad and Peshawar, have been informed about the development. Ayyan Ali cannot travel abroad now.
Sources told that Ayyan's name has been added to ECL today.
Also read: Ayyan Ali indicted in currency smuggling case
The model pleaded not guilty at a hearing conducted by Justice Rana Aftab Ahmed in the garrison city of Rawalpindi.
Ali has been the focus of media attention since March when authorities, working on a tip, nabbed her at the VIP lounge of Benazir Bhutto International Airport in Islamabad.
Under Pakistani laws, no one can carry over $10,000 on a flight, but authorities found $506,800 tucked in her luggage.
Ali was released on bail in July and her lawyer has said she had no intention to take money outside Pakistan.
During the hearing today, harsh words were exchanged between the judge and Ayyan's lawyer Lateef Khosa.
Lateef Khosa criticized the verdict and said that his experience is equal the age of the judge. However; the judge responded that he had to act in accordance to law and constitution.
Meanwhile, the court has summoned the prosecution witnesses on December 8.
The court has also reserved verdict on Ayyan Ali'splea seeking return of her passport. The decision is likely to be announced today.
Her lawyer while giving arguments said that seeking access to passport is the basic right of his client, otherwise, her projects with international companies will be cancelled.
Prosecutor Ameen Feroz argued that the passport is a material evidence of the case and there is a possibility that she will flee abroad.
Ayyan has maintained that the money was solely hers since her arrest.