Last Updated On 12 November,2015 11:24 pm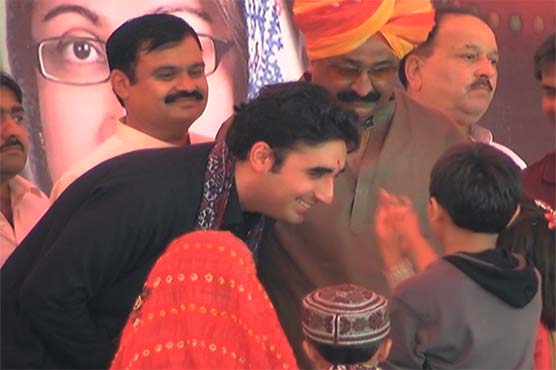 PPP chairman cut the Diwali cake at a celebration event and addressed a rally afterwards
MITHI (Dunya News) – Hitting at the Prime Minister Nawaz Sharif and the Pakistan Muslim League-Nawaz (PML-N) party, Pakistan People's Party (PPP) chairman Bilawal Bhutto Zardari on Thursday said those coming to celebrate Diwali in Sindh are welcome but they won't get any votes, Dunya News reported.
According to details, PPP chairman cut the Diwali cake at a celebration event and addressed a rally afterwards.
Lamenting Indian Prime Minister Narendra Modi's policies, Bilawal said Modi government discriminates between Eid and Diwali, adding that Modi's silence over minorities' oppression is a slap on the face of India's proclaimed secularism.
Bilawal celebrated Diwali in Mithi and conveyed the message of unity to the country's Hindu community. He lashed out at opponents in his address saying that the Prime Minister came to Sindh to make promises but then left behind the 'Ravana' of Tharparkar.
The party workers started a sort of mini riot after the address and did whatever they can to grab the food and Diwali cake.
---
Also Read: Govt stands with oppressed, against oppression: PM Nawaz
---
PM Nawaz accepted the invitation of the Hindu community to promote harmony and participate in Diwali celebrations in Karachi. Nawaz Sharif said it is his responsibility to be of service to everyone, adding that he is everyone's Prime Minister regardless of faith or communal differences.
The Prime Minister also expressed the desired to be sprayed with paints on the occasion of Diwali only to be reminded that colours are sprayed on Holi and not Diwali.
He also mentioned the anecdotes on the festival he had heard from the ancestors. PM Nawaz also announced to build Bhagat Kanwar Ram medical complex in Hyderabad and renovation of Baba Guru Nanak Gurdawara.