Last Updated On 11 November,2015 05:34 am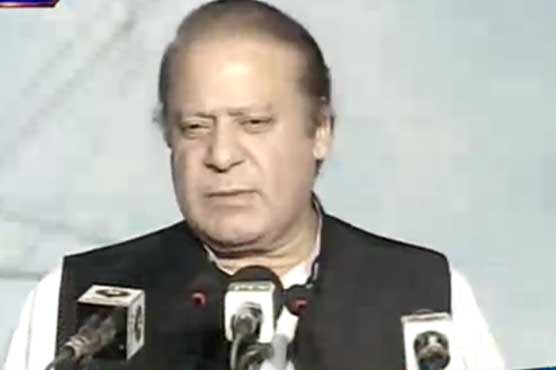 PM inaugurated Balloki power plant which will produce 1223 MW electricity after completion
KARACHI (Dunya News) – Prime Minister (PM) Nawaz Sharif is expected to arrive in Karachi on Wednesday for a one day visit to attend Pakistan Navy's Sea Spark 2015 military exercises. PM Nawaz will observe Pak Navy's deep sea military exercises along with joint operational capabilities with other military departments. The PM is also expected to attend an event of the minority community during his visit to the city. Meanwhile addressing the inaugural ceremony of the Balloki Power Plant earlier, PM Nawaz stated that it was the federal government of Pakistan Muslim League - Nawaz (PML-N) that was making a Naya Pakistan (New Pakistan) in the province of Khyber Pakhtunkhawa (KP).
Earlier on Tueday, PM Nawaz laid the foundation stone of Balloki Power Plant which is going to produce 1223 Megawatt electricity upon completion in 2017, reported Dunya News. Addressing the inaugural ceremony of the Balloki Power Plant, PM said that unprecedented savings are being secured in these projects while no corruption, kickbacks or commission is involved in these projects. He said that the amount saved from these plants will be invested in other projects. "Such projects haven t been produced in the past", he said. PM added that transparency was maintained in the tenders of these projects. "New tradition of honesty and fairplay are being established in the country", added the PM.
Nawaz said that there will be no power shortage in 2018. He said that the foreign exchange reserves of the country are rising continuously. "Our journey of development needs continuity. We are already on the path of progress. We must continue with this", he said. PM said that a new Pakistan will emerge if this process continues for the next 3 years.
Talking on this occasion, Punjab Chief Minister (CM) Shahbaz Sharif said that PML-N s victory in local body elections was a vote of confidence by the public for PM Nawaz. "Nawaz Sharif will continue setting up new power plants and the dark days will end", he said. CM added that teh government is firmly pursuing all the power projects, despite difficulties, and all these projects will be completed with transparency.