"Terrorism is our common enemy," Pakistan responds to Afghan President's remarks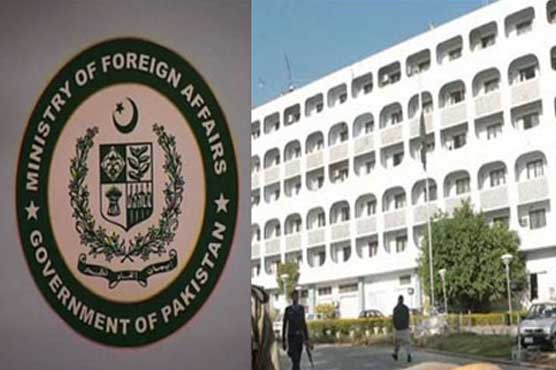 Cooperative approach is required to combat terrorism, the FO spokesperson said.
ISLAMABAD (Web Desk) – Taking note of the press conference by the President of Afghanistan held in Kabul on Monday, the Foreign Office stated that Pakistan and Afghanistan are brotherly and neighbouring countries and enjoy close and cooperative relations.
The Foreign Office's remarks came after Afghan President Ashraf Ghani accused Pakistan of sending messages of war and harbouring bomb-making camps, after a wave of devastating blasts in Kabul killed at least 56 people on Monday.
A Taliban suicide car bomber killed five people Monday near the entrance of Kabul s international airport, the latest in a barrage of violence that has convulsed the Afghan capital since Friday.
In a rant against Pakistan, the Afghanistan President said that he does not want Pakistan bringing Afghanistan Taliban to the negotiating table.
"Pakistan is committed to maintaining good neighbourly relations with Afghanistan and all other regional countries," FO spokesperson Qazi Khalilullah stated.
He said: "Having been the biggest victim of terrorism itself with human losses exceeding 60,000, the people and the Government of Pakistan can feel the pain and anguish of the brotherly people and the Government of Afghanistan over the recent wave of terrorist attacks, which have resulted in the loss of many valuable lives and injuries to scores of people. Pakistan condemns these deadly attacks in Afghanistan in the strongest terms. We stand shoulder to shoulder with our Afghan brethren in their hour of grief."
Terrorism is our common enemy and requires cooperative approach to combat this menace, he added.
"As underscored by the Prime Minister of Pakistan during his visit to Kabul on 12 May 2015, Pakistan considers enemies of Afghanistan as its own enemies and has been extending its fullest cooperation to Afghanistan in combating terrorism," Qazi Khalilullah said.
He further remarked that Pakistan remains committed to supporting and facilitating an Afghan-led and Afghan-owned peace and reconciliation process in Afghanistan.