'Indian PM is greatest terrorist', Brig(R) Ghazanfar lambasts #BlameGameIndia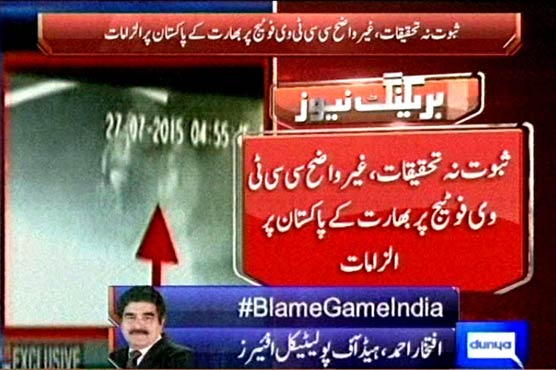 Iftikhar Ahmed called the Indian allegations as 'fictitious and child-like'.
(Web Desk) – There is no terrorist greater than Indian PM Nardendra Modi, said Brigadier(R) Syed Ghazanfar Ali during an interview with Dunya TV on Tuesday.
Talking on a special transmission by Dunya TV, defence analyst Ghazanfar Ali said that India's orientation in its policy is 'outward' instead of 'inward'.
Explaining the term he said that India's outward policies have meant that there is greater emphasis on playing blame game against its neighbor than concentrating on its own work.
He alleged that the Indian PM is part of extremist Hindu organization RSS, which has been responsible for killing even the senior figure of Indian political movement Mahatma Gandhi.
He said that secular India has become a Fascist and a Nazi state.
Iftikhar Ahmed, head of political affairs Dunya News, lambasted Indian 'proof' in the form of CCTV coverage. He said that the footage released is unclear vague and shows 3 men walking off in the dark.
He called the Indian claims as 'baseless and child-like'. Iftikhar Ahmed said that the Gurdaspur incident is an Indian intelligence failure for which only the state of India is responsible.