Naltar helicopter crash: Bodies, injured shifted to Islamabad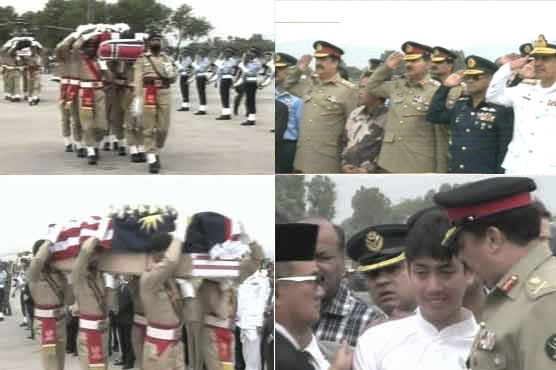 Bodies of those killed in Naltar incident have been shifted to Islamabad from Gilgit.
ISLAMABAD (Web Desk / AP) - The injured persons and bodies of those killed in a helicopter crash in Naltar valley including the ambassadors to Pakistan from the Philippines and Norway and the wives of the ambassadors from Malaysia and Indonesia have arrived at a military base near the capital, Islamabad.
The bodies were received at the Nur Khan AIrbase with full military honor. A guard of honor was presented to them.
Chairman Joint Chiefs of Staff Committee General Rashad Mahmoud, the three services chiefs, diplomats, Special Assistant to Prime Minister on Foreign Affairs Tariq Fatemi and other high ranking officials were also present on the occasion.
Funeral prayers of martyred pilots Major Altamash, Major Faisal and chief technician Zakir were held in Gilgit and their bodies were shifted to CMH Rawalpindi.
Prime Minister Nawaz Sharif has declared Saturday a day of national mourning.
Talking to the media on the occasion, Foreign Secretary Aizaz Ahmad Chaudhry said we are in close contact with the relevant embassies in order to shift the bodies of foreign diplomats to their home countries.
He said the bodies of foreign diplomats will be sent to their countries through special flights. Each special flight will be accompanied by a federal minister.