Security forces kill 5 terrorists in Khyber Agency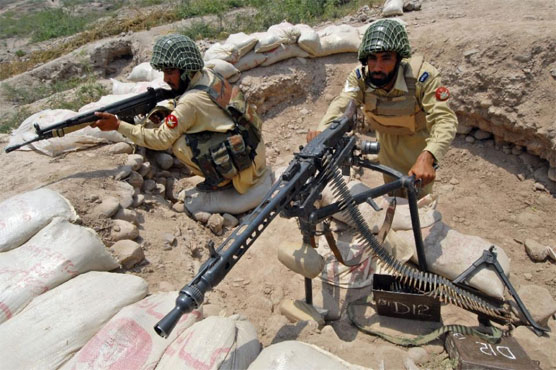 Operation Khyber II was launched this month to eliminate terrorists from the region.
KHYBER AGENCY (Web Desk) – Marking a huge success in operation Khyber 2, security forces have killed at least five terrorists in Tirah Valley of Khyber tribal region on Friday, Dunya News reported.
Earlier on Thursday, security forces captured terrorist strongholds Sandapal, Tordara, Kundwala and Mehrban Killay in Khyber Agency.
"During last 24 hours intense fighting took place. 27 terrorists were killed. 5 soldiers including an officer captain Ajmal embraced Shahadat," the ISPR reported.
Khyber is one of seven tribal regions along the porous border which have never come under the full control of the state. Militants have taken advantage of the area s lawlessness to set up strongholds.
The operation in Tirah, part of Khyber tribal area, aims to build on the army's offensive against strongholds of Tehreek-e-Taliban Pakistan (TTP) and other militant groups in nearby North Waziristan that began in June last year.
Last month the army said it killed at least 230 militants in Tirah, which has long been a hideout for TTP ally Lashkar-e-Islam (LI).