Pakistan will defend Saudi Arabia's territorial integrity: PM Nawaz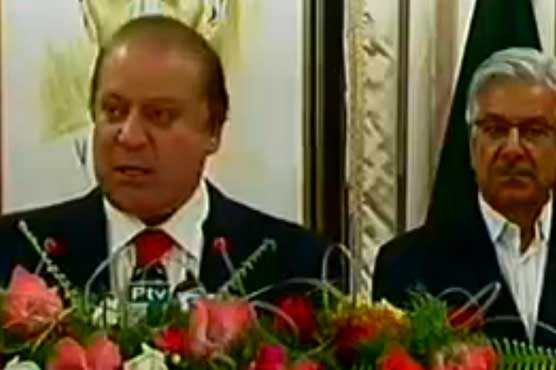 I asked Iran's Foreign Minister to use Iranian influence over Houthis to curb insurgency, said PM
ISLAMABAD: (Dunya News, Web Desk) – Prime Minister of Pakistan Nawaz Sharif has on Monday said that Pakistan stands shoulder to shoulder with Saudi Arabia in this crisis. He said that he had also asked Iran's Foreign Minister Zarifi during the latter's visit to Pakistan to use Iranian influence over Houthis to curb the insurgency in Yemen, reported Dunya News.
Addressing the media in Islamabad, Nawaz Sharif said that Pakistan strongly condemned Houthis and other non-state actors for overthrowing Yemen s legitimate government. He said that the restoration of President Hadi s government will be an important step in ensuring peace in Yemen.
Nawaz Sharif said that some Arab countries misinterpreted the resolution adopted by parliament on Yemen. He said that the parliamentary resolution clearly stated that Pakistan will defend Saudi Arabia s territorial integrity at any cost. He said that Saudi Arabia is Pakistan s one of the most important strategic allies and that Pakistan would stand firm with Saudi Arabia on this issue.