Last Updated On 20 January,2015 About 0 seconds from now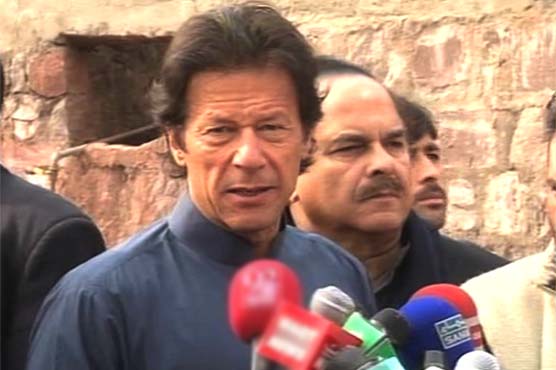 Thankfully, sit-in was not on otherwise, govt would have blamed PTI for the crisis, said PTI Chief.
ISLAMABAD (Dunya News) – Chief of Pakistan Tehreek-e-Insaf (PTI) Imran Khan on Tuesday announced to fight a case against Former Chief Justice (CJ) Iftikhar Chaudhry and alleged government of taking place tax through electricity prices.
While talking to media before leaving for Peshawar to attend memorial of Peshawar attack martyrs, Imran Khan expressed that he is going to show solidarity with the bereaved families of Peshawar massacre and vowed to cooperate with them.
In response to a question, Imran Khan announced to lead a legal fight against Former CJ and taunted that I don't have Rs 20 million but I will manage to arrange them from Arslan Iftikhar as he has gathered so much money from the asset of Pakistan .
Talking about petrol crisis, PTI Chief denounced the performance of Pakistan Muslim League Nawaz (PML-N) by terming their government worst than Zardari's as merit has been badly treated in PML-N government.
Khan claimed that the conspiracy against government has been led by government's own people and urged to impose merit system to demolish artificial democracy.
Answering a question related to Judicial Commission formation, he pronounced to shut down the country but, he added that PML-N has itself shut down various cities due to petrol shortage.
PTI has accepted all the conditions of the government including calling off sit-in and establishment of military courts.
Moreover, PTI Chief Imran Khan demanded to establish Judicial Commission as early as possible so that the alleged election rigging can be probed.