Sit-in ended, petrol ended: Imran Khan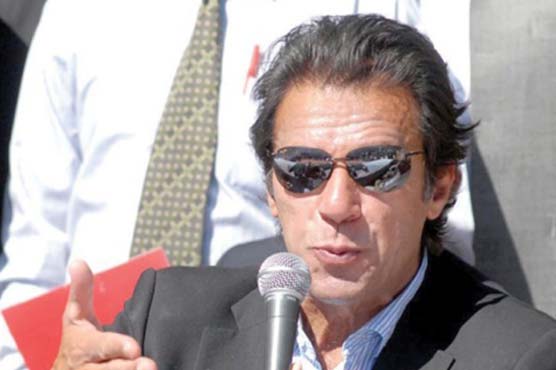 They used to say sit-in was causing all the problems, where is petrol now? questions Chairman PTI
ISLAMABAD: (Dunya News) – Chairman Pakistan Tehreek-i-Insaf (PTI) Imran Khan has said that the petrol has become extinct as the sit-in has ended. "They used to say that sit-in was causing all the problems. Sit-in has ended now. What caused the petrol shortage now?" he questioned.
Imran Khan welcomed former Pakistan Muslim League – Quaid (PML-Q) leaders Riaz Fatyana and Saeed Ahmed Virk who joined PTI in a press conference on Saturday. Riaz Fatyana had contested the election from NA-94 against Justice (r) Khalilur Rehman Ramday's brother. Justice Ramday's brother has taken a stay in his constituency from Lahore High Court (LHC). Imran Khan reiterated his allegation that former Chief Justice Iftikhar Muhammad Chaudhry and Justice (r) Khalil Ramday played key roles in the alleged rigging in Pakistan Muslim League – Nawaz's (PML-N) favour. He said that riaz Fatyana hasn't been able to get justice for one year.
Imran further said that 284 Form-14 were missing from the NA-122 polling bags. "Now we are hearing that all the missing Form-14 have been found. Where have they surfaced from now? He questioned. He said that after long queues of CNG, petrol has also become extinct now. "Pakistan State Oil (PSO) has defaulted. It has a debt of 200 billion rupees to pay", Imran said. He said that CEO of PSO has been appointed on temporary basis. He complained that many of PTI members could not attend the meeting because they could not find petrol.
Chairman PTI said that 40 percent of electricity is produced in Pakistan from furnace oil, price of which has gone low. Still more surcharges are being implemented, he said. He said that had the sit-in been still in place, petrol prices would have reduced further and electricity charges would not have been increased.
Sharing his opinion about the ongoing global controversy about the blasphemous cartoons published in European magazines, Imran Khan said that Muslims were being provoked. He said that publishing of such cartoons was a major failure of Organization of Islamic Countries (OIC). He said that these cartoons have hurt the Muslims' feelings.
Responding to a question, Chairman PTI said that his party would decide on going back to parliament only after decision on formation of the judicial commission. He said that government had backed off from the promise of forming judicial commission to probe rigging allegations. He said that sit-in stage has already been passed and a new strategy will be given on Sunday in PTI convention.
PTI leader Asad Umar said on this occasion that the tussle between government and PTI on judicial commission is hurting the public interest. He said that nation stands united today. Criticizing the government on petrol shortage, Asad Umar said that government was incapable of solving national problems.
Asad said that GST was imposed on the public and still petrol is unavailable. "If this is not the failure of 'experienced government team' then why has the petrol gone rare?" he asked. Asad Umar claimed that government was soon going to close down the power plants. He criticized the government on rising circular debt. "PSO has gone bankrupt and the minister says that government was not informed by PSO of its financial issues", he said.