Last Updated On 05 November,2014 About 7 years ago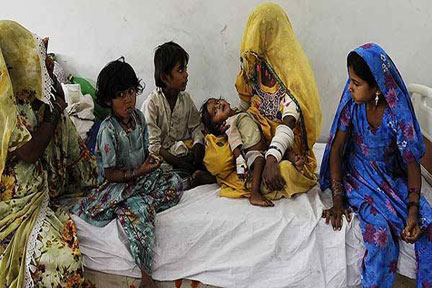 Mysterious illness rendered 16 children disable while relief teams fail to reach the areas.
THARPARKAR (Dunya News) – Death toll in Thar escalated to 37 and at least 16 children in two villages of Tharparkar fall prey to disability due mysterious disease as dearth of food persists in affected areas whereas Ministry of Health including polio teams failed to reach out to these villages.
38 children have been admitted at Mithi Hospital whereas two children have been referred to Hyderabad Hospital in the wake of their critical condition.
Eight of the disabled children belong to a village Qabool Jauter in district Chachru while eight others belong to a village Jambhari in district Dhali. Bones of the effected children have shrunk and with their diminished physical strength, they are completely unable to walk.
Wells supplying water to these villages have all dried out due to drought whereas the supply of wheat is restricted to the cities alone. Problems of the affectees have escalated as relief services have not been able to make it to the far flung settlements.
Water shortage has worsened as 114 tube wells in Chachhro and Dhali have become dysfunctional.
Ration along with clothes is being distributed among the affected individuals courtesy of Bahria Town. The Bahria Town relief team in-charge Brigadier Tahir Butt has vowed to meet the challenges of water scarcity and soon set up water wells and motor installation projects.