Last Updated On 10 October,2014 About 7 years ago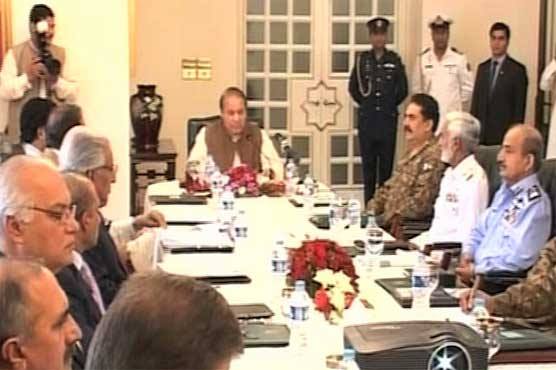 PM Nawaz chaired National Security Committee meeting in Islamabad.
ISLAMABAD (Web Desk) – Prime Minister Nawaz Sharif on Friday chaired meeting of the National Security Committee to discuss India s ceasefire violations along the Line of Control and ongoing operation Zarb-e-Azb in North Waziristan tribal region, Dunya News reported.
The three services chiefs, DG ISI Zaheerul Islam, Defence Minister Khawaja Asif, Interior Minister Chaudhry Nisar, Finance Minister Ishaq Dar, Information Minister Pervaiz Rasheid and Advisor on National Security and Foreign Affairs Sartaj Aziz are present in the meeting.
The high-level meeting reviewed the situation emerging in the face of Indian aggression along the LoC and the Sialkot Working Boundary. The committee was also briefed on the losses caused by the Indian shelling and Pak Army s response to Indian firing..
Addressing the participants, Prime Minister Nawaz Sharif stated that Pakistan s desire for peace should not be considered its weakness.
He called on India to honour Line of Control (LoC) ceasefire agreement and immediately halt firing for durable peace.
The Prime Minister also expressed grief over loss of civilian lives in Sialkot sectors.
It is pertinent to mention here that 13 Pakistani civilians have lost their lives during unprovoked Indian fire since October 2.
Exchanges of sporadic fire are common along the de facto border dividing the region, despite a ceasefire pact signed in 2003. But the extent and intensity of the latest violence and the number of civilian deaths is unusual.

ZARB-E-AZB PROGRESS
Prime Minister Nawaz Sharif expressed satisfaction over the successful continuation of Zarb -e-Azb operation in North Waziristan to eliminate terrorists.
He said those who offered sacrifice of their lives for the safe future of Pakistan must be complemented by all of us.
Expressing his deep sympathies with the bereaved families, he said the army is already taking care of the families but the government on its part is ready to extend every possible relief to them.
He termed his visit to Miranshah and meeting with army jawans and officers as a moving experience. He said army jawans under the leadership of Chief of Army Staff General Raheel Sharif have done a marvelous job in the war against terrorism.
The Prime Minister once again assured to provide all out relief and assistance to the internally displaced persons.