Nawaz Sharif first ever Pakistani prime minister to visit Miranshah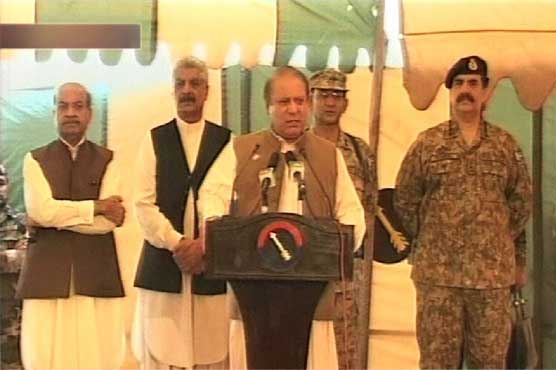 Nawaz Sharif was briefed on the progress of Operation Zarb-e-Azb, according to ISPR
MIRANSHAH: (Dunya News) – Prime Minister Nawaz Sharif became the first ever Pakistani Prime Minister to have visited Miranshah (Waziristan) on Thursday. According to Inter-Services Public Relations (ISPR), Chief of Army Staff General Raheel Sharif welcomed the PM on this occasion.
Visiting Miranshah for boosting the morale of the soldiers, PM Nawaz Sharif was briefed that 90 percent of the area has now been retaken by Pakistan Army.
Later, PM Nawaz Sharif visited the Internally Displaced Persons (IDPs) on this occasion and assured that the affectees of the operation will be rehabilitated safely. He announced that the government will make all the efforts in order to turn this place into the most beautiful places of the world. He also said that providing employment opportunities to the youth of the region is government's priority in order to make this place a true heaven on Earth.