147 PTI, PAT supporters arrested in Punjab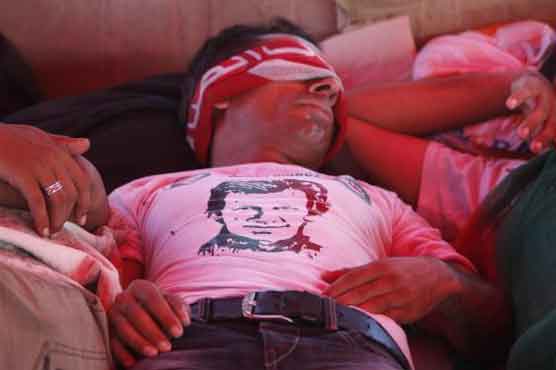 The protests have raised questions over the political stability of Pakistan.
(Reuters) - As twin protests in Islamabad entered a fifth day on Tuesday, Pakistan police said they had arrested some 150 supporters of protest leaders overnight in Punjab province in a crackdown ahead of widening demonstrations in the capital.
Opposition leader Imran Khan and firebrand cleric Tahir ul-Qadri have led tens of thousands of supporters from Punjab to Islamabad in a bid to bring down Prime Minister Nawaz Sharif, whom they accuse of rigging elections and corruption.
The protests have piled extra pressure on the 15-month-old civilian government already struggling to overcome high unemployment, daily power cuts and a Taliban insurgency.
The protests have raised questions over the political stability of Pakistan.
Police in Punjab, Pakistan's wealthiest and most populous province, arrested 147 supporters of Khan and Qadri overnight to prevent them joining the protests in Islamabad, said Inspector Rana Hussain in the central town of Sargodha.
Khan, a former international cricket star, said on Monday he would lead protesters into the capital's "Red Zone", an area home to Western embassies and key government ministries, on Tuesday.
The government has previously said protesters are not allowed to enter the area. It is flooded with riot police and paramilitary forces and cordoned off with shipping containers and barbed wire.
The government has not said whether Khan would be able to proceed to the Red Zone or not.
Qadri has said he will meet his supporters later on Tuesday to consider whether to march alongside Khan. Their protests have so far remained separate because the two have different supporters and plans for what should happen if Sharif steps down.
PARLIAMENTARY BOYCOTT
Khan also announced his party, the third largest in the country, would resign from their 34 seats in the National Assembly and in all provinces apart from Khyber Pakhtunkhwa, which his party controls.
Khan's announcement means Pakistan will have to hold a raft of by-elections.
Police have estimated the number of people at the protests at around 55,000, including many women and children. Khan has called for his supporters to bring their families on the march.