Samungli operation carried out on tip-off from locals: Corps Commander
Last Updated On 15 August,2014 About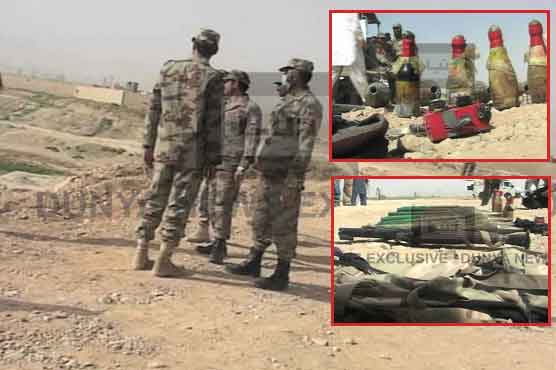 Samungli operation was carried out on tip-off from the locals in Quetta, says Nasir Khan Janjua.
Quetta (Dunya News) – Corps Commander Nasir Khan Janjua said on Friday that information about suspicious persons in sensitive areas of Quetta was received by the locals. The credit for failing the terrorist attack also goes to the locals, he added. He said that it was government's decision to begin a military operation in North Waziristan and in turn the army is bravely fighting terrorism.
Chief Minister Balochistan Abdul Malik Baloch, Lt. General Nasir Khan Janjua and Interior Minister Sarfaraz Bugti reviewed the security situation at Khalid Base. CM Abdul Malick expressing content over the operation said that fortunately the operation has been carried out successfully and all available resources are being utilized to help the injured security officials.
On this occasion, Corps Commander of Quetta Nasir Khan said that the security personnel was informed about the presence of suspicious persons in the sensitive areas of the city by the locals and he gave complete credit to locals for the success of Khalid Base and Samungli operation.
Twelve terrorists were killed in the operation whereas eleven security officials were injured. Corps Commander claimed that it's the responsibility of the country as a whole to the ongoing operation in North Waziristan successful.

According to AFP reports, gunmen armed with automatic weapons, grenades and wearing suicide vests attacked two military airbases in southwestern Pakistan early Friday, leaving ten militants dead after Pakistan security forces opened fire, officials said.
Sarfaraz Bugti, the home minister of insurgency-hit Balochistan province, said that militants had tried to storm the Samungli airbase, used by Pakistan s Air Force, and Khalid military airbase, both in the provincial capital Quetta, but had failed to penetrate either perimeter.
"The gun fights with militants which started overnight around 10.00pm continued till 7.30am, in which seven security forces personnel were also wounded," Colonel Maqbool Ahmed, in charge of the operation, told AFP.
The targets of the attacks were the airbases, which are situated 12 kilometres (seven miles) apart in Quetta, he added.
Ahmed said that attackers wearing suicide bombs arrived in a Suzuki pickup at the rear of the perimeter of Samungli base adjacent to houses and markets and made a hole in the wall.
"When security forces engaged the attackers and fired bullets, they blew themselves up," he said.
Ahmed said all five men appeared to be of Central Asian or Uzbek origin.
"At Khalid base three attackers were killed, two of them carried out suicide bombings," the colonel said, adding that two suspected militants were also arrested alive, one of them wounded.
A senior military official said rockets were fired at Samungli airbase, with two landing inside the perimeter fence. He said no damage was caused.
Quetta city s police chief Abdul Razzaq Cheema told AFP that militants first launched an attack on Samungli airbase before targeting Khalid military airbase around an hour later. Police had defused four bombs near the outer wall of Khalid airbase, he said.


---
---
Advertisement