Zarb-e-Azb: 27 militants killed in Shawal airstrikes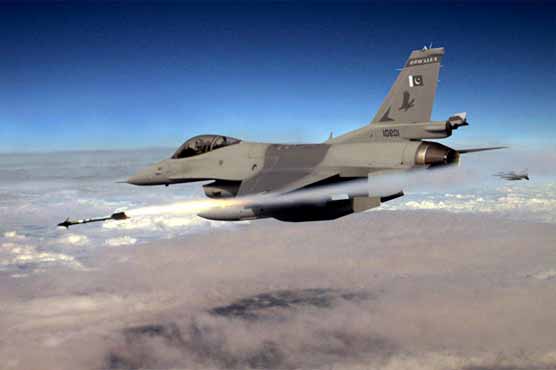 More than 160 militants have been killed so far in the ongoing operation in North Waziristan.
RAWALPINDI (Web Desk/Agencies) – Pakistani Air Force (PAF) jets resumed air strikes in North Waziristan on Monday, a day after the army announced the start of a full-scale military operation to eliminate terrorists from the volatile region bordering Afghanistan.
At least 24 militants have been killed in PAF airstrikes in Shawal area of North Waziristan on Monday, Inter Services Public Relations (ISPR) reported.
According to ISPR, six militant hideouts were targeted in the airstrikes.
Yesterday, jet aircraft precise strikes in Degan, Boya areas in North Wazirastan were very successful in which 140 terrorists were killed. Most of those killed were Uzbek militants. Many ETIM terrorists and their affiliates have also been killed in the strikes. It was a massive blow to the terrorists and one of their main communication centre has been dismantled.
According to ISPR, operation in North Waziristan Agency is progressing as per plan. No operation in civil populated areas has been started so far. North Wazirastan Agency has been isolated by deploying troops along its border with neighboring agencies and FATA regions to block any move of terrorists in and out of the Agency.
The decision to conduct a full-scale operation came few days after the Tehreek-e-Taliban Pakistan (TTP) and their ethnic Uzbek allies holed up in North Waziristan claimed responsibility for the June 8 attack on Karachi airport, which was seen as a strategic turning point in how Pakistan tackles the insurgency.
The army imposed an all-day curfew in North Waziristan as the operation got underway and turned off mobile phone services to undermine the insurgency and restrict people s movements.
The curfew will be relaxed in the next couple of days to allow residents to leave the area, a security official said.
According to ISPR, announcements will be made for local population to approach designated areas for their orderly and dignified evacuation out of the Agency. Necessary Logistics and administrative arrangements for IDPs have been made by Political Administration and Disaster Management Agency. Registration points and IDP camps have been made at, as being announced by Civil Administration.
Surrender points have also been made for those militants who chose to quit violence and give up their arms, the ISPR stated.
Meanwhile,. Afghan National Army and Afghan Border Police have also been requested to seal the border on their side to facilitate elimination of terrorists who attempt to escape across the border. They have also been requested to initiate immediate measures to eliminate TTP terrorists and their sanctuaries in Kunar, Nuristan and other areas of Afghanistan.