Lahore 'honour killing': Court orders medical checkup of Farzana's father
Last Updated On 03 June,2014 About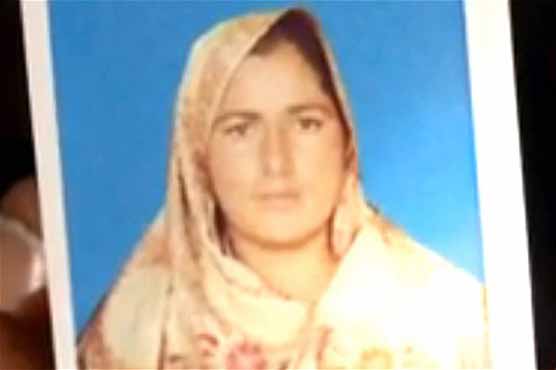 Farzana was stoned to death by her relatives outside LHC on May 27.
LAHORE (Dunya News) – A local court in on Tuesday ordered to conduct medical checkup of Azeem, the father of victim Farzana.
Victim Farzana's sister Khalida took the stance before the court that her father was being tortured and forced to confess to the crime whereas police were not permitting her meeting with her father.
The court admitted both pleas of Khalida Bibi and ordered police to permit the petitioner to visit her father.
Meanwhile, the court also ordered to conduct medical checkup of accused Muhammad Azeem and. The court also sent the accused on seven day physical remand.
It is pertinent to mention here that 25-year old Farzana Parveen on May 27 was murdered outside Lahore High Court by more than two dozen brick-wielding attackers, including her brother and father, for marrying against her family's wishes.
The Chief Justice Tassaduq Hussain Jillani took notice of the murder of a young woman outside Lahore High Court (LHC). The CJ sought a report from Inspector General Police (IGP), Punjab within 48 hours. The notice was taken on a report published in media on May 29 containing the details that the murder of a young woman, who was beaten to death with bricks by her family for marrying without their consent.
Prime Minister Nawaz Sharif also took notice of the issue and ordered Punjab government to arrest all the culprits.
On the other hand, United States condemned the "heinous" killing of the pregnant Pakistani woman beaten to death outside a courthouse, and called for her murderers to be swiftly tried.
"We strongly condemn the murder of a woman outside the Lahore High Court on Tuesday," State Department spokeswoman Jen Psaki said.
"We hope the perpetrators are quickly brought to justice in accordance with Pakistan s law," she told reporters.
Psaki denounced "unjustifiable acts" against women around the world, especially "violence that occurs in the name of tradition and honor, such as so-called honor killings."
She welcomed statements by Pakistani leaders denouncing Parveen s murder as well as new legislation protecting women s rights in the country.
"We encourage the full implementation of such laws as well as greater public awareness about these laws, especially in Pakistan s rural and tribal areas," Psaki added.
Meanwhile, United Nations (UN) High Commissioner for Human Rights Navi Pillay on Wednesday strongly deplored the incident.
She urged the Government to do much more to prevent such killings.
"I am deeply shocked by the death of Farzana Parveen, who, as in the case of so many other women in Pakistan, was brutally murdered by members of her own family simply because she married a man of her own choice," said High Commissioner for Human Rights Navi Pillay.
"I do not even wish to use the phrase 'honour killing': there is not the faintest vestige of honour in killing a woman in this way," she added in a news release, which also noted that Pakistan has one of the highest rates of violence against women globally.
"Every year, hundreds of women are killed in Pakistan as a punishment for marrying a man their families have not chosen or for refusing an arranged marriage," Ms. Pillay said.
According to the Human Rights Commission of Pakistan, 869 women were murdered in so-called 'honour killings' in the country last year, but the real figure could be much higher, with many such killings believed to be disguised as accidents, or not reported at all.
"The Pakistani Government must take urgent and strong measures to put an end to the continuous stream of so-called 'honour killings' and other forms of violence against women," said Ms. Pillay.
"They must also make a much greater effort to protect women like Farzana Parveen. The fact that she was killed on her way to court, shows a serious failure by the State to provide security for someone who – given how common such killings are in Pakistan – was obviously at risk."
The UN General Assembly, in three separate resolutions in 2001, 2003 and 2005, called on Member States to intensify legislative, educational, social and other efforts to prevent and eliminate "honour"-based crimes and to bring the perpetrators to justice.

---
---
Advertisement