Air strikes hit militants' hideouts, kill 35 in Khyber Agency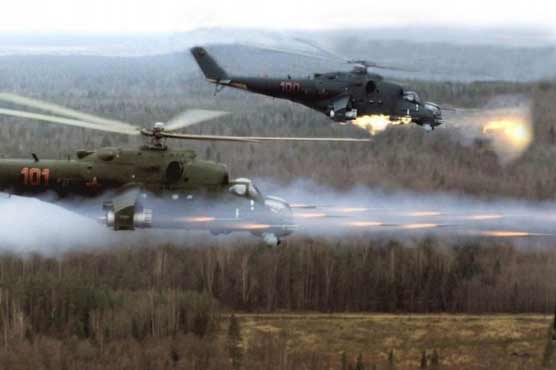 It was the 1st time Pakistan used air strikes against militants since Taliban announced ceasefire.
PESHAWAR (AFP) - The Pakistani military attacked Taliban hideouts in the lawless tribal northwest with fighter jets and ground forces on Thursday and killed at least 37 suspected militants, officials said.
It was the first time the military is known to have used air strikes against militants since the Pakistani Taliban announced a ceasefire on March 1 to help peace talks.
The government began negotiations with the Tehreek-e-Taliban Pakistan (TTP) in February to try to end their seven-year insurgency, which has cost thousands of lives.
The Taliban said last week it was ending the ceasefire, complaining of little progress in negotiations with the government. A series of militant attacks since then have killed seven people in the northwest.
The airstrikes hit mountainous areas of the Khyber tribal district, where the Taliban and the banned militant group Lashkar-e-Islam are active.
"First jet fighters were used early in the morning and then ground troops were sent to the area," a senior security official in Peshawar told AFP on condition of anonymity.
Military sources said at least 37 militants were killed and 18 wounded in the operation.
Independent verification of the death toll and identity of the dead was not possible, as journalists are not allowed to enter the area.
The Taliban condemned the strikes and said they were "deeply anguished" but did not say the incident would derail talks.
"This is the first attack since the extension in ceasefire has expired. If government is empowered and serious in negotiations we will continue them," TTP spokesman Shahidullah Shahid told AFP.
Lashkar-e-Islam, led by warlord Mangal Bagh, is feared for kidnappings and extortion in Khyber, one of seven tribal districts along the Afghan border.
Another security official said the strikes targeted militants involved in bomb attacks in the northwestern town of Charsadda and on a fruit and vegetable market in Islamabad which killed 24 people.
Officials said ground troops also used heavy weapons to pound militant targets.
In other violence on Tuesday, a suicide bomber in Karachi killed a senior local policeman along with four other people, an attack claimed by the TTP's Mohmand chapter, which has rejected the peace efforts.
Police said Shafiq Tanoli, who had survived previous assassination attempts, was killed near a tailor's shop in the southern port city.
The TTP Mohmand group claimed responsibility, accusing Tanoli of killing "many of our associates".
Government and Taliban negotiators met in Islamabad on Tuesday to plan a fresh round of talks and to try to persuade the militants to begin another ceasefire, a Taliban negotiator said.
Since the Taliban began their campaign of violence in 2007, more than 6,800 people have been killed in bomb and gun attacks around Pakistan, according to an AFP tally.