Abdul Kader Mullah hanged for his loyalty to Pakistan in 1971: Nisar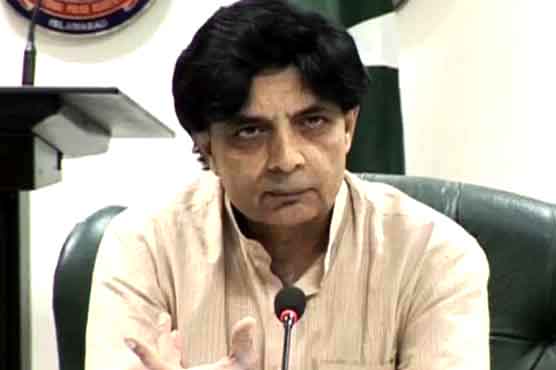 The interior minister has expresses grief over the hanging of Jamaat-e Islami leader in Bangladesh.
ISLAMABAD (Web Desk) - Interior Minister Chaudhry Nisar Ali Khan has expressed deep grief and concern over the incident of execution of imprisoned political and religious leader Abdul Qadir Mullah of Jamaat-e-Islami in Bangladesh.
In a statement in Islamabad on Friday' the minister said even after passing of 42 years to the events of 1971' executing Abdul Kader Mullah is very unfortunate and tragic step and some circles are declaring it a judicial murder.
The Interior Minister said there is no doubt that he was hanged because of his loyalty and solidarity with Pakistan in 1971.
He said till the very end before creation of Bangladesh' he remained supporter of a united Pakistan and on Friday every Pakistani is saddened and grieved on his death.
Chaudhry Nisar said it was demand of international relations' solidarity of Islamic ummah and wisdom that conditions and events of the past should be put behind and a new era should be started. But with this unfortunate incident' an effort is made to revive old wounds of the past.
He said in reality whenever unfortunately any country falls victim to civil war then all sides in the conflict resort to violence.
He said it would have been better if the Bangladeshi government had shown farsightedness' large heartedness and magnanimity instead of opening old wounds.
Bangladesh on Thursday hanged a senior Islamist leader Abdul Qader Mullah, 65, at 10.01 pm (1601 GMT) in a jail in the capital Dhaka.
Earlier, Bangladesh's highest court upheld the death penalty for a top Islamist leader convicted of war crimes, just two days after he was given a dramatic last-minute reprieve from execution.
The Supreme Court headed by Chief Justice Muzammel Hossain "dismissed" Abdul Quader Mullah s appeal for a final review of his death sentence, meaning he could now be hanged as early as midnight Thursday.
On Tuesday night a judge stayed the hanging of Mullah, just 90 minutes before his scheduled execution at a jail in Dhaka, amid a global outcry over the fairness of his and other trials held for alleged war crimes.
Mullah, a leader of the Jamaat-e-Islami party leader, would have been the first person put to death for massacres committed during Bangladesh's 1971 independence war following a series of verdicts by a special war crimes court that have sparked deadly protests.
Mullah was convicted of rape, murder and mass murder, including the killing of more than 350 unarmed Bengali civilians.