KP will block NATO supplies after Nov 20, warns Imran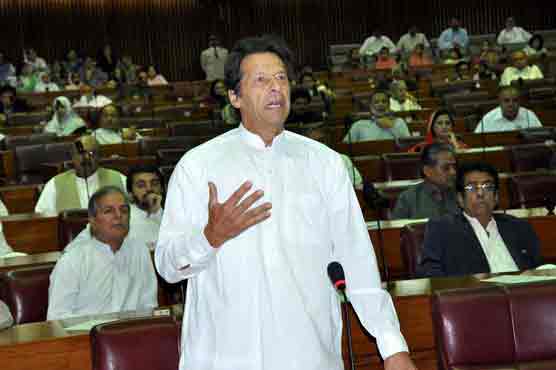 Says KP govt will stop NATO supplies after Nov 20 if US attacks continued after the deadline.
ISLAMABAD (Web Desk) - Imran Khan says we should send a clear message to the United States not to launch drone attacks during peace process.
Taking part in the debate in National Assembly' PTI chief Imran Khan appealed to all political parties to end their differences and come on the same page to give an effective response to the situation arising out of drone strikes and attempts to spoil dialogue process with Taliban.
He said we should send a clear message to the United States not to launch drone attacks during peace process.
We should also convey to Washington that if drone strikes continued then we will block NATO supplies and go to the UN Security Council.
Reiterating his stance that war on terror was not Pakistan's war, he said Musharraf made a blunder by throwing Pakistan into the war on terror.
"Americans treat us like their slaves and insulted us by sabotaging the peace talks with the Taliban by launching the drone attack on Hakimullah Mehsud.
Reminding the story of drones in Pakistan, he said that when former military dictator General (R) Pervez Musharraf was asked that why Pakistan is joining US war on terror. Musharraf said we are providing only logistic support to US, Imran maintained.
The PTI Chairman said that now the situation is worse by joining US war on terror because of Musharraf.
He said, "Musharraf himself admitted in his book that he sold people for money". Imran Khan added that Musharraf sold his conscience for the sake of dollars.
Moreover, the PTI Chief said that since then the country has lost 100 billion dollars in war against terror.
Stressing the need for unity among political forces Imran said he had differences with Maulana Fazl but he was ready to meet him for national consensus.
He appreciated the efforts of Interior Minister Chaudhary Nisar in approaching the Talban for talks.
The PTI chief said that it was a defining moment in the history of Pakistan. "It is unfortunate that Prime Minister Nawaz Sharif did not make the drone strikes his number one agenda during his meeting with US President Obama."
"US has droned the peace talks, he said.
Imran concluded that federal government must suspend NATO supplies, and if it is not done Khyber-Pakhtunkhwa govt will block the supplies at its own after November 20.