KPK govt should resign after DI Khan jail attack: Sanaullah
Last Updated On 31 July,2013 About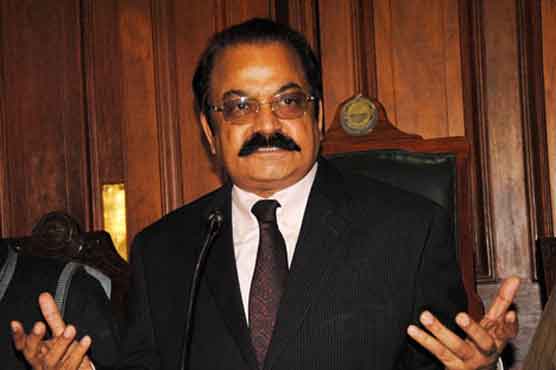 Punjab Law Minister said intelligence agencies had warned about the attack a day earlier.
LAHORE (Dunya News) – Punjab Law Minister Rana Sanaullah on Wednesday severely criticised Khyber Pakhtunkhwa government over its failure to avert attack on central jail in Deral Ismail Khan.
Talking to media outside Punjab Assembly, Rana Sanaullah labelled KPK Chief Minister Pervez Khattak as Teeli Pehlwan (thin wrestler).
"I think KPK government should resign on the failure despite having report of the exact date. I do not know what KPK Chief Minister Pervez Khattak, this Teeli Pehlwan, was doing" he said.
Rana Sanaullah said Pakistan Tehreek-e-Insaaf (PTI) chief Imran Khan must give answer to the nation and accept the fact that PTI is not good enough to rule the province.
On Tuesday, dozens of heavily armed terrorists freed nearly 250 prisoners, including hardcore militants, during a sophisticated overnight attack on DI Khan jail that killed 13 people.
Armed with guns, mortars, rocket-propelled grenades and bombs, the terrorists bombarded the prison in the town of Dera Ismail Khan before escaping with scores of inmates after a three-hour shootout.
The militants had also taken away six women, including one female constable and five female inmates.
The Central Prison in Dera Ismail Khan can hold up to 5,000 inmates and around 300 were being held in connection with attacks on security forces and sectarian killings.
But it was not clear how many were present during the assault, which began late Monday and ended early Tuesday.
The city in northwestern Khyber Pakhtunkhwa province is close to Pakistan s semi-autonomous tribal belt bordering Afghanistan where Taliban and Al-Qaeda-linked insurgents are most active.
Imran Khan s party that advocates peace talks with the Taliban, branded the latest attack a failure of intelligence agencies.
In April 2012, nearly 400 prisoners escaped from a jail outside Pakistan s northwestern town of Bannu during a similar insurgent raid.

---
---
Advertisement