Qadri's demands unrealistic: Kaira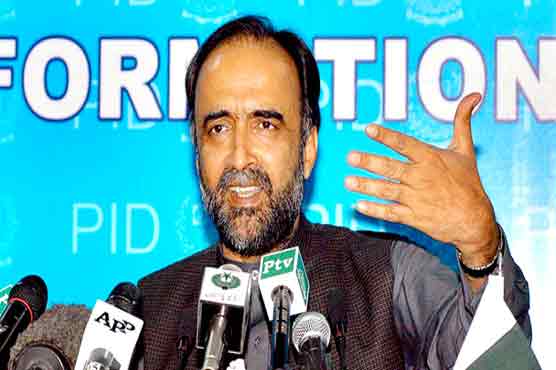 Asks Tahirul Qadri to register his party, win two-third majority and then bring reforms.
ISLAMABAD: Minister for Information and Broadcasting Qamar Zaman Kaira has termed Tahirul Qadri s demands unconstitutional and unrealistic saying the assemblies and the election commission cannot be dissolved at the whim of one person.
Talking to the media persons here on Wednesday' he questioned as to how the demands made by the chief of Minhajul Quran could be fulfilled within the parameters of the constitution.
He said the parliament and the judiciary have shut the doors for the establishment of a dictator government and bringing amendments in the constitution through unconstitutional manner.
The information minister said the election commission has been constituted by a committee of the parliament and there is the constitutional modus operandi for the removal of the election commission as is for the judges of the courts.
Election Commission is a constitutional office and it cannot be dissolved at whim. Similarly' caretaker set-up will be installed in accordance with the constitutional provisions. Neither the president nor the army and the judiciary have any role in setting up an interim set-up.
Referring to the demands of Tahirul Qadri made on Wednesday' the information minister said the person who the other day declared us an ex-government' is making demands to the same government. today.
He asked Tahirul Qadri to stop hoodwinking the people and stop using women and children as a shield.

"If Tahirul Qadri wants to bring reforms' he should register his political party' abandon his Canadian citizenship and then go to the people' seek their vote and fulfill his objectives'" said Kaira.
The information minister assured that free and fair elections will be conducted on time. All the political parties have full confidence on the election commission. "The Supreme Court has also directed to hold the elections on time and we have also given assurance to the court in this regard."
Criticizing the tone and tenor of Tahirul Qadri' he said the chief of Minhajul Quran should abide by the norms of decency.
"Tahirul Qadri should keep his tone under control otherwise political parties will reciprocate in the same manner' concluded the information minister.