Rising temperatures, longer monsoon drive Bangladesh's worst dengue outbreak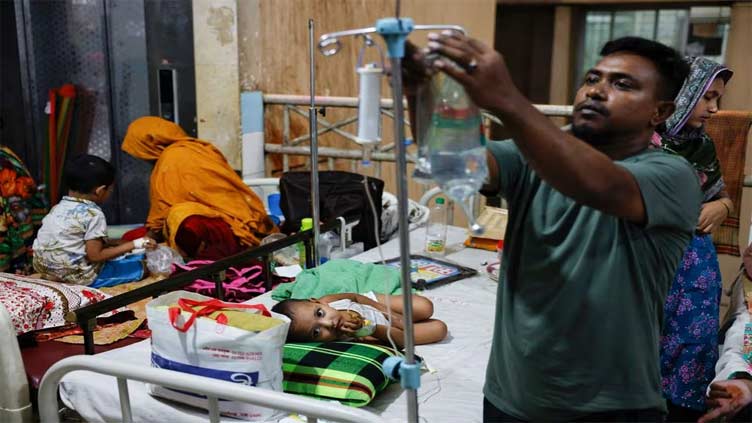 The death toll from Bangladesh's outbreak in 2023 is 1,476 as of Nov 12
DHAKA (Reuters) - Rising temperatures and a longer monsoon in Bangladesh because of climate change are providing ideal breeding conditions for the dengue-spreading mosquito, experts said, as the country grapples with its worst-ever outbreak of the viral disease.
The death toll from Bangladesh's outbreak in 2023 is 1,476 as of Nov 12, with 291,832 infected, official data showed. Hospitals have struggled to cope with the rising number of patients in the densely populated South Asian country.
The death toll this year was more than five times that of 2022, when Bangladesh recorded 281 dengue-related deaths, and the deadliest since authorities started tracking them in 2000.
Kabirul Bashar, an entomologist and zoology professor at Jahangirnagar University in Bangladesh, has spent much of his career studying mosquitoes and said he had never seen such a severe outbreak in his 25 years of research.
"Temperature, rainfall and other components are changing patterns due to climate change. We are seeing monsoon-like rain in mid-October, which is unusual," he told Reuters. "These seasonal pattern changes are creating the ideal situation for breeding of Aedes mosquito. Aedes is adapting to these changes."
Dengue is common in South Asia during the June-to-September monsoon season as the Aedes aegypti mosquito, which spreads the disease, thrives in stagnant water.
This type of mosquito typically breeds in clean water and feeds during the day, passing along the disease, also known as "breakbone fever" for the severe muscle and joint pains it causes.
"After three years of experiments, we finally came to a conclusion that Aedes bites all through the day," said Bashar, the only scientific expert on the country's national anti-dengue committee. "Also, it can successfully reproduce, even in dirty sewers and in saline seawater, (to) complete its life cycle."
This was the first year that dengue cases have been reported in all 64 districts of the country, whose total population is about 170 million.
Bashar said vector surveillance - a close examination of how the disease is spreading - was now needed year-round in Bangladesh.
Most people who get dengue do not have symptoms, so the number of cases may be far higher than the reported numbers.
"This year we have seen different symptoms for dengue fever," physician Janesar Rahat Faysal told Reuters. "Some patients who came with only coughing symptoms were diagnosed with dengue. This is alarming."
There is no vaccine or drug that specifically treats dengue, but early detection and proper medical care can reduce deaths to fewer than 1% of those infected, experts have said.
Hospitals in Bangladesh have been overflowing with patients while dealing with a shortage of intravenous fluids, crucial for treating severe cases.
"I had to deal with two dengue patients, my sister and my niece. I didn't find proper beds for them in the hospital. So, I had to treat them at home," said Sirazus Salekin Chowdhury, who lives in the capital, Dhaka. "I was struggling to find intravenous saline."