Everyone over 35 should be screened for type 2 diabetes, say researchers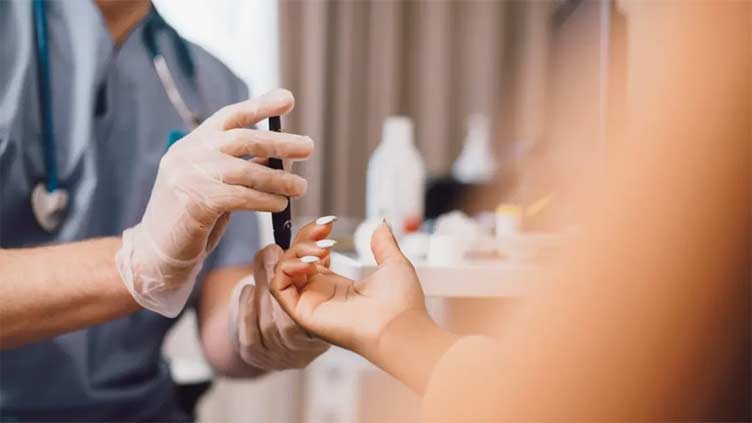 This approach also enhances the ability to diagnose these conditions across racial and ethnic groups
ISLAMABAD, (Online) - Screening all adults aged 35 to 70 years, regardless of their weight, will identify the greatest number of people in that age range with prediabetes or type 2 diabetes, say the authors of a new study.
This approach also enhances the ability to diagnose these conditions across racial and ethnic groups, the researchers found, which could reduce the health disparities faced by these groups.
"Diabetes is a condition in which unacceptable racial and ethnic disparities persist," study author Dr. Matthew O'Brien, an associate professor of medicine and preventive medicine at Northwestern University Feinberg School of Medicine, said in a news release.
"That's why we need a screening approach that maximizes equity," he said. "If we can find everyone [with prediabetes or diabetes] earlier, it helps us reduce these disparities and the bad outcomes that follow."
Wider screening for prediabetes and diabetes
Almost half of U.S. adults have type 2 diabetes or prediabetes, accordingTrusted Source to the Centers for Disease Control and Prevention (CDC).
PrediabetesTrusted Source is a condition where blood glucose (sugar) levels are higher than normal, but not high enough for a person to be diagnosed with type 2 diabetes.
People with prediabetes have a higher risk of developing type 2 diabetes, heart disease and stroke.
In addition to a risk of heart disease and stroke, people with type 2 diabetes are also at risk for vision loss and kidney disease, especially when their blood glucose is uncontrolled.
Over 80% of adults with prediabetes do not know they have this condition and almost one-quarter of diabetes cases are undiagnosed, CDC data shows.
These risks are distributed unevenly across the U.S. population. Diabetes rates are higher among Black, Hispanic and Asian groups, compared to non-Hispanic whites — nearly two times higher for Hispanics.
People can have prediabetes and type 2 diabetes for years without clear symptoms. That's why screening is needed to identify people with these conditions. This is done using a blood test that measures blood glucose levels.
In 2021, the U.S. Preventive Services Task Force (USPSTF) recommended prediabetes and type 2 diabetes screening for adults 35 to 70 years old who are overweight or have obesity.
Carrying excess weight is one of the risk factorsTrusted Source for prediabetes and type 2 diabetes.
The age cut-off for the USPSTF's previous recommendation was 40 years. Lowering the age at which doctors should start screening patients for prediabetes and diabetes can help identify more cases.
However, screening only people who are overweight or have obesity would miss people with normal weight who have prediabetes or diabetes, in particular those in certain racial and ethnic groups.
Research shows that on average Black, Hispanic and Asian people develop diabetes at a lower body mass index (BMI).
So "if we make decisions about diabetes testing based on weight, we will miss some people from racial and ethnic minority groups who are developing prediabetes and diabetes at lower weights," said O'Brien.
The current USPSTF recommendation says physicians should consider screening at an earlier age or at a lower BMI people from racial and ethnic groups with higher rates of diabetes.
However, the authors of the new study point out that this still makes it optional for physicians to screen at a lower BMI, which risks missing people who could benefit from earlier diabetes interventions.
Earlier diagnosis makes treatment easier
For the new study, published March 24 in the American Journal of Preventive Medicine, researchers examined data from the National Health and Nutrition Examination Surveys (NHANES), a nationally representative sample of U.S. adults.
They used these data to compare how many cases of prediabetes and diabetes would be identified under different screening scenarios — including how they impacted certain racial and ethnic groups.
Researchers found that lowering the screening age from 40 years to 35 years — as USPSTF did with its 2021 recommendation — resulted in an additional 13.9 million adults with prediabetes or diabetes being identified.
The greatest screening gains due to this change occurred among Hispanics, they found.
Similarly, if all adults aged 35 to 70 years were screened, regardless of BMI, it would identify even more people with prediabetes or diabetes.
In addition, this approach had a positive impact across all racial and ethnic groups, the study shows.
Screening based on age alone is also easier for physicians to implement because they don't have to remember separate BMI screening cut-offs for different groups. This could help increase screening rates, said O'Brien.