Degenerative disc disease: Can injections help relieve back pain?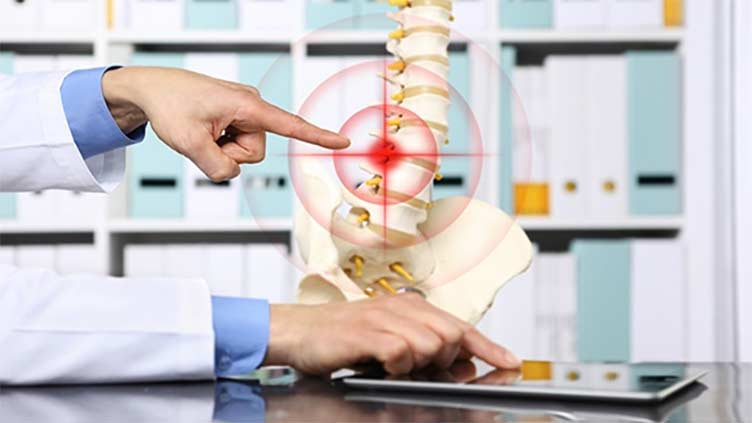 This condition can start developing in your 30s and 40s.
ISLAMABAD, (Online) - Injections of spinal disc tissue into the spine may relieve pain associated with degenerative disc disease, according to preliminary results of a recent small study.
Degenerative disc disease is a condition in which age-related wear and tear of one or more spinal discs causes pain, such as in the low back, buttocks and thigh. Injuries can also contribute to disc damage.
These intervertebral discs are found between the bones of the spine (vertebrae). They act as shock absorbers and support the spine as it bends and rotates.
This condition can start developing in your 30s and 40s. By age 60, most people will have some amount of disc degeneration, although not everyone will have pain as a result.
Disc degeneration can occur in any part of the spine, but it is more common in the lower (lumbar) spine because of its greater weight bearing.
Improvements in pain and function
In the new study, presented Mar. 1 at the Society of Interventional Radiology Annual Scientific Meeting in Phoenix, researchers examined the effectiveness of a treatment called viable disc allograft supplementation.
This technique involves mixing cells obtained from spinal discs of donor tissue with saline (salt water). This mixture is then injected into a patient's damaged disc in order to encourage the growth of healthy disc tissue.
The study included 46 adults with degenerative disc disease, who received the spinal disc treatment. An additional four patients received only a saline injection.
Three years after the procedure, 60% of the patients who received the spinal disc tissue injections reported a greater than 50% improvement in their pain symptoms, the researchers found.
In addition, 70% had a 20-point or greater reduction in disability due to low back pain.
Disability was assessed using a questionnaire that asked about a patient's pain level, as well as their ability to do activities like washing and dressing, lifting objects, walking, working, and others.
"The significant improvement in pain and function is promising for patients living with chronic low back pain — a condition that can greatly impact a person's quality of life," said study author Dr. Douglas Beall, chief of radiology at Clinical Radiology of Oklahoma in Edmond.
The new study, which has not been peer-reviewed, was a follow-up to a randomized controlled trial published in 2021 in the journal Pain Physician.
This earlier trial found that one year after receiving the allograft treatment, people had greater improvements in pain and disability compared to people who received saline injections.
Both studies were funded by VIVEX Biologics, Inc., the company that developed the viable disc allograft supplementation treatment.
The treatment is not yet approved by the Food and Drug Administration, but Beall told Healthline that the company is seeking approval through the FDA's Biologics License Application (BLA) pathway.
He estimates that the agency could approve the treatment sometime in 2026. However, that is subject to change.
Back pain is common cause of disability
Dr. Nick Jain, an orthopedic spine surgeon with DISC Sports & Spine Center in Newport Beach, Calif., said the new treatment is promising, but there will need to be additional randomized controlled trials with a larger number of patients.
"While this treatment is exciting and poses a potential benefit, at the current time I do not think there's enough scientific evidence to support its use for lumber degenerative disc disease," he told Healthline.
But he agreed that there is a need for new treatments for this condition.
According to the Centers for Disease Control and Prevention, almost four in 10 American adults had back pain in 2019, which can have a large impact on people's lives.
"Patients who are symptomatic for lumbar degenerative disc disease can have significant back pain and dysfunction, as well as disability, inability to work and loss of function," said Jain
Treatments for degenerative disc disease include physical therapy, medical pain management and other non-surgical therapies. However, Jain said these may not relieve patients' pain and can leave them with reduced function.
When non-medical treatments don't work, a spine physician may recommend a surgical treatment such as spinal fusion or artificial disc replacement.
These treatments can reduce pain and restore function, but Jain said they may lead to other problems, such as surgical complications and degeneration of adjacent spinal discs.
So "there is definitely a large need for more advanced interventions that are minimally invasive and less disruptive than traditional surgical techniques," he said.