Compounds shown in 2019 news clip not linked to Hamas, despite online claims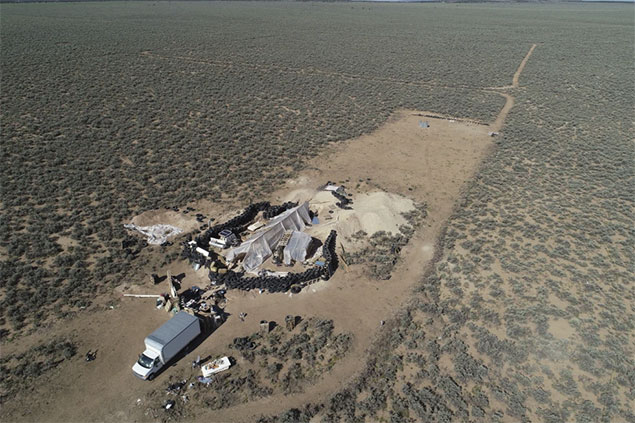 A video on social media falsely claims a training compound linked to Hamas was uncovered by the FBI
CLAIM: A news clip shows compounds in the US where Hamas was "training hidden in plain sight."
AP'S ASSESSMENT: False. The video is a 2019 news report by Sinclair Broadcast Group about a man who had been arrested in 2018 on terrorism charges in New Mexico. Federal prosecutors there confirmed to The Associated Press that there was no indication he or other family members involved in the case were tied to Hamas.
THE FACTS: Amid warnings from the FBI's director that Hamas' deadly Oct. 7 attack on Israel could inspire violence in the US, a video circulating on social media falsely claims a training compound linked to Hamas was uncovered by the FBI.
"Hamas is here and training hidden in plain sight," reads text across the top of the video, which was shared on Instagram and TikTok. "They are trying it in a small town. We must wake up."
The video includes a May 2019 news segment describing compounds in Alabama and New Mexico, where prosecutors alleged a man named Siraj Ibn Wahhaj was training kids to carry out terror attacks. Produced by Sinclair Broadcast Group, the report was syndicated to news stations nationwide.
Wahhaj and three of his family members were convicted last month of terrorism charges by a federal grand jury in New Mexico. Jany Leveille, Wahhaj's partner, reached a plea agreement on weapons charges after initially being charged with terrorism-related offenses.
But none of these people have been linked to Hamas, a Palestinian group.
Neither the original criminal complaint nor subsequent indictments allege any connection.
The US Attorney's Office for the District of New Mexico confirmed in a statement that the video is incorrect.
"There is no indication that the group was tied to Hamas or any terrorist group," the statement said. "The group adopted unique beliefs and practices under Leveille's direction."
During the trial, prosecutors said Wahhaj and his family members fled with his 3-year-old child to the compound in northern New Mexico so they could engage in firearms and tactical training to prepare for attacks against the government, the AP reported at the time.
The plan was tied to an apparent belief that the boy would be resurrected as Jesus Christ and provide instructions. The toddler's badly decomposed remains were found in an underground tunnel at the compound near the Colorado state line.
In addition to the terrorism charges, Wahhaj's brother-in-law and two sisters were convicted on kidnapping charges. A sentencing date has yet to be scheduled.
FBI Director Christopher Wray said during testimony before the House Committee on Homeland Security on Wednesday that the agency does not discount the possibility of Hamas exploiting the latest Israel-Hamas war to conduct attacks on US soil.
However he said that, historically, the agency's cases involving the group have been about people in the US facilitating or financing the militant group overseas.