False claims online say only male migrants try to enter the US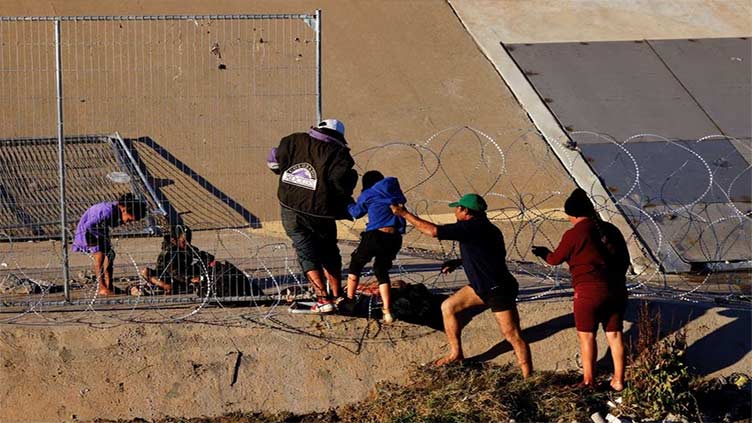 It is impossible to know the exact demographic breakdown of migrants entering unofficially
(Reuters) - Instances of women and children trying to cross the U.S.-Mexico border have been widely documented despite online allegations that only men attempt to enter the United States.
This claim was shared online around the expiration of Title 42, a pandemic-era restriction that allowed U.S. authorities to expel migrants without the chance to solicit asylum (here), (here).
"This is an invasion by the train loads. All men, no women and children," reads a tweet viewed over 28,000 times featuring a video in which a large crowd is seen walking near a railroad and riding atop train wagons (here). Reuters did not verify the source of the footage.
Another example with over 11,500 retweets is viewable (here)
Yet, while it is impossible to know the exact demographic breakdown of migrants entering unofficially into the United States, official government data from both sides of the border show these claims are false.
Public information by U.S. Customs and Border Protection (CBP) viewable here) records the demographic characteristics of those encountered by enforcement authorities at the U.S.-Mexico border.
They enlist four categories: unaccompanied minors, single adults, individuals in a family unit and accompanied minors (defined as a child travelling with an adult that is "either a U.S. Citizen, Lawful Permanent or admissible noncitizen."); see (here).
Between January and April this year, there were 715,236 total encounters at the border, according to CBP data. Of those: 44,059 were unaccompanied children; 494,075 were single adults; 176,114 were individuals in a family unit (this includes minors and adults travelling together and is not broken down by age); and 988 accompanied minors.
Reuters has reported about the surge in minors travelling to the United States since 2021 (here), at least partly due to a Biden administration policy change allowing unaccompanied children into the country (here).
Women accounted for around 30% of the total southwest U.S. border encounters between January and April 2023, according to a breakdown of CBP data provided directly to Reuters by the Department of Homeland Security (DHS) Office of Immigration Statistics.
In an analysis of 2021 data (here) the agency stated that "the number of women and girls encountered at the border in 2021 reached a historic high."
Mexico's Migration Policy Unit has a record of its own citizens who were sent back to Mexico by U.S. authorities due to irregular migration statuses (see entry for "devuelto" in page 4) (here). Their 2022 data shows 14% of these incidents were women, while 17% were 19 or younger (see printed page numbered 62 and 83) (here).
Reuters has widely reported on immigration to the United States and interviewed migrants trying to cross the southern border (here) (here) (here). Some examples of photographs and videos documenting women and children migrants are viewable (here) here) (here) (here).
VERDICT
False. It has been widely documented that women and children are among migrants that try to enter the United States.