Tdap vaccine use in pregnancy proven safe in studies, not 'an experiment'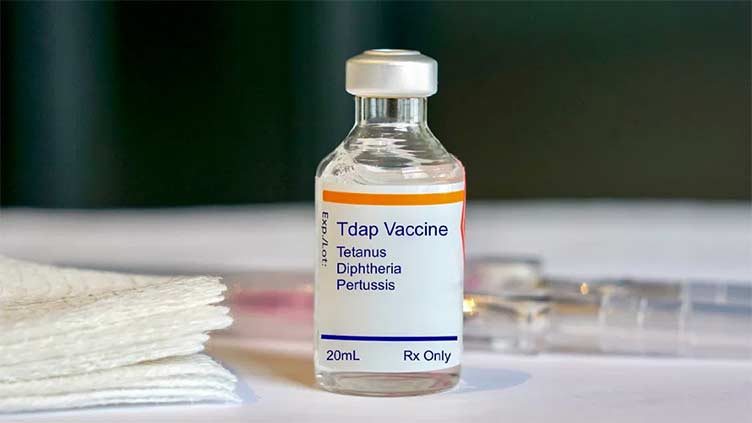 The Tdap vaccine can help prevent three diseases: tetanus, diphtheria, and pertussis
(Reuters) - Multiple studies, including randomized controlled trials, show the Tdap (tetanus, diphtheria, pertussis) vaccine is safe and effective to receive during pregnancy, contrary to claims shared online that pregnant women are being given the vaccine as an "experiment."
Tdap vaccine is especially recommended for women late in pregnancy to boost a mother's antibodies against pertussis, or whooping cough, which can be deadly in babies. Clinical trials for both Tdap vaccines used in the U.S., as well as population data going back decades, have shown the vaccine is effective and safe for this use.
An example of the posts (here) includes the text, "Still wondering why a certain 3 letter agency recommends pregnant women get the TDAP shot when the manufacturer even states there are no controlled studies of pregnant women using this… and they can't get ethics approval to experiment on pregnant women. So pregnant women getting it voluntarily are quite literally the experiment."
The U.S. Centers for Disease Control and Prevention (CDC) (here) and the American College of Obstetricians and Gynecologists (ACOG) (here) both recommend the Tdap vaccine and advise that it is safe to receive during pregnancy.
TDAP TRIALS
The Tdap vaccine can help prevent three diseases: tetanus, diphtheria, and pertussis, which is also known as whooping cough (here).
Whooping cough can be "extremely serious especially in babies and young children, causing pneumonia, convulsions, brain damage, or death," according to the CDC (here).
Two Tdap vaccines, Adacel produced by Sanofi Pasteur Inc. and Boostrix produced by GlaxoSmithKline, are used in the U.S. and are FDA-approved (here , here) for use in pregnancy (here).
"There have been multiple clinical studies and controlled trials conducted in the U.S. and across the globe to evaluate the safety, immunogenicity, and effectiveness of Tdap vaccines when used during pregnancy," a Sanofi spokesperson said by email, noting the two randomized, controlled clinical trials in the U.S. (here ) and Canada (here) that the company supported. Both were conducted with an ethics review and approval by an Institutional Review Board, the spokesperson added.
A multi-country clinical trial (here) of GSK's Boostrix tested a version of the vaccine with a higher level of one additive (adjuvant) than the U.S.-approved version has in late-term pregnant women. That study also found the vaccine was "well tolerated" with an "acceptable safety level" and that it boosted pertussis antibodies in cord blood (here).
FDA-approved vaccine package-insert documentation for Adacel (here) and Boostrix (here) shows that neither manufacturer states the vaccine has not been tested in clinical trials.
TRACK RECORD
Population studies of mothers and babies have found the vaccine dramatically reduces whooping cough in infants during the first few months after birth with no safety issues concerns.
One large U.S. study on almost 149,000 infants in California who were born between 2010 and 2015 found that babies were 91 percent less likely to get whooping cough if their mothers were vaccinated during pregnancy, Reuters Health reported in 2017 (here).
In 2017, about 49% of all pregnant women in the U.S. received a Tdap vaccine during their pregnancy (here).
In 2018, an expert working group published its updated recommendations for vaccination against tetanus, diphtheria and pertussis in the U.S. (here), laying out the data and reasoning behind the advice. Based on data going back to 2005, when both Tdap vaccines were first recommended during pregnancy, the authors wrote, "Additional data from the United States and elsewhere on the safety of Tdap vaccination during pregnancy for both pregnant women and their infants continue to be reassuring, with no reported increase in adverse events, including adverse birth outcomes, and no observation of new or unexpected vaccine safety concerns."
CDC's website (here) provides a list of studies looking at whooping cough in infants and Tdap vaccine effectiveness and safety during pregnancy.
VERDICT

False. Clinical trials and population data have shown the Tdap vaccine to be safe and effective in pregnancy.