Photo of 1999 Serbia bombing shared with missing context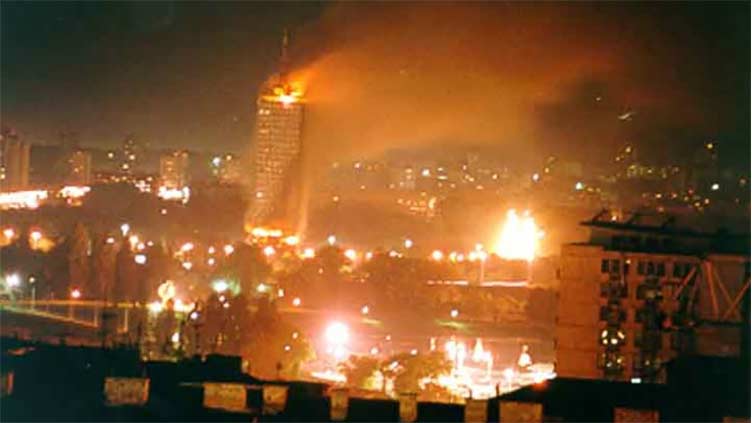 Photo of 1999 Serbia bombing shared with missing context
(Reuters) - Two versions of an image showing a 1999 bombing in Belgrade, Serbia, are unrelated to the 2022 Russian invasion of Ukraine and there is no evidence that media outlets are representing the photo as having been taken in Ukraine, contrary to suggestions online.
A screenshot containing the same photo in two orientations, with one version labeled "Belgrad 1999" and the other, "Kiev 2022," was posted to Twitter with the remark: "The world is a stage… they probably didn't think that yet again the conspiracy theorists would find the original image." The comment is followed by a check mark inside a green box next to the words "Another one for Internet Warriors" and a red box with an X next to "Globalists & their media & government conspirers #Nuremberg2 #NoAmnesty" (here).
On Facebook the same screenshot was shared with the remark: "Be careful who you follow..." (here).
However, Tjekdet, a Danish fact-checking organization (here), (here) has uncovered just one instance of a media outlet representing the image as having been taken recently in Ukraine. A Bosnian newspaper published the 1999 photo identified as Kyiv in a February 2022 article (here).
A search for the image online with the words "Kyiv" and "Kiev" also did not return any other news reports using the photo to depict a raid on Kyiv (archive.ph/EVYDt), (archive.ph/pghZY).
The original image shows the aftermath of a NATO air strike on April 20, 1999 on the Usce Tower in Belgrade, which housed the offices of Serbia's ruling party, as reported by CNN (here) and described in a NATO press briefing on April 21, 1999 (here).
Tjekdet traced the earliest appearances of the image to a 2007 blog, and a 2009 version of a Wikipedia page, where the photo is credited to Serbian television broadcaster RTV Pink, and is mislabeled as showing an April 23, 1999 attack on a different building in Belgrade (here).
The U.S.-led NATO bombing campaign against Serbian forces in 1999 was aimed at halting the killing and expulsion of ethnic Albanian civilians in Kosovo by troops of the late nationalist president Slobodan Milosevic (here) , (here).
Russia launched a large-scale invasion of Ukraine on Feb. 24, 2022, striking major Ukrainian cities including Kyiv.
The war in Ukraine is well documented and the latest Reuters reporting can be seen (www.reuters.com/places/ukraine).
Miscaptioned footage is routinely shared during war.
VERDICT
Missing context. A photograph showing the 1999 NATO bombing campaign against Serbian forces was not widely used by media to depict Russia's 2022 invasion of Ukraine.