The EU did not issue statement calling for Nigeria's president-elect to be disqualified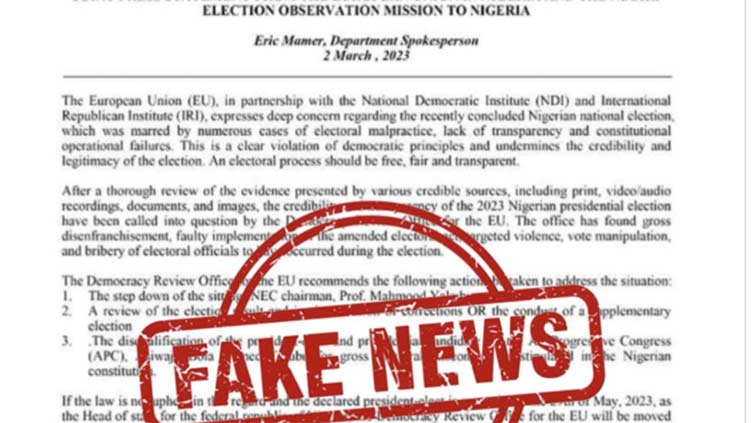 The EU, NDI and IRI say the statement is fake.
(Reuters) - A document that questions the integrity of Nigeria's 2023 general election and recommends disqualifying president-elect Bola Ahmed Tinubu has been falsely attributed to the European Union and a US observer mission.
The fake statement includes the EU flag and the logos of the US National Democratic Institute (NDI) and International Republican Institute (IRI), two non-profits that support and promote democratic processes.
Carrying a byline for Eric Mamer, the chief spokesperson of the European Commission (here), and dated March 2, the statement says a review of evidence found that the Feb. 25 election in Nigeria was "marred by numerous cases of election malpractice, lack of transparency and constitutional operational failures". It calls for several actions, including the stepping down of the Independent National Electoral Commission's (INEC) chairman and the disqualification of Tinubu for "gross electoral misconduct" (here) , (here), (here).
The EU delegation to Nigeria and the Economic Community of West African States (ECOWAS) said in two tweets that the statement was fake (here), (here). The NDI/IRI also said that no such press release had been published (here).
Meanwhile, an authentic preliminary statement from the EU Election Observation Mission to Nigeria can be seen (here), while a statement – also preliminary - from the NDI/IRI delegation can be found (here).
VERDICT
False. The EU, NDI and IRI say the statement is fake.