Photos of bombed Kyiv apartment block show building before and after restoration, do not show war in Ukraine is staged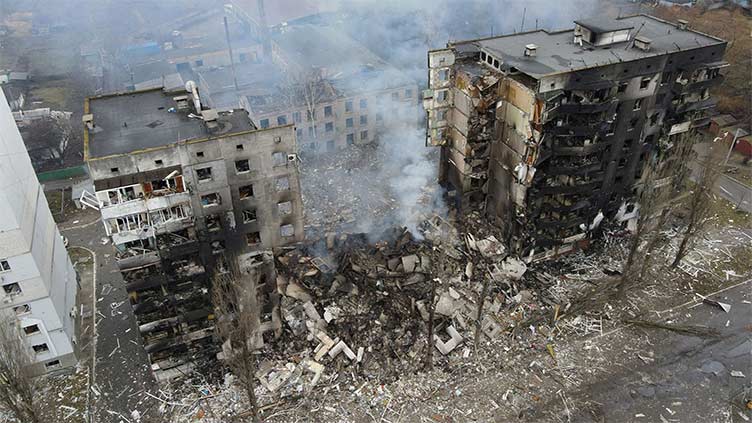 The photos of the tower block are not fake, and the war in Ukraine is well documented.
(Reuters) - Two images of a missile-damaged apartment block in Kyiv, taken roughly a year apart, show the building before and after it was repaired. Some social media users, however, have claimed either that the pictures are fake or that they prove that the war in Ukraine is fake, despite numerous reports and other photographs documenting the damage to the tower and its subsequent restoration.
Facebook users (here, here and here) have uploaded a composite image of the before-and-after photos of the block along with a tweet, which claims: "This war is FAKE!" (here). One user added that these are "fake pictures".
Similar posts can be seen on Twitter (here) and Instagram (here).
However, there are multiple reports and photographic evidence documenting the missile strike on the building and its later restoration, which was completed roughly a year later.
Reuters reported on the Feb. 26, 2022, shelling of the building (here) and captured video footage of it being hit (here).
The European Pressphoto Agency published images after the restoration in February 2023.
Kyiv city council has also published a photo of the restored building, while one publication has documented the step-by-step story of the process.
A fundraiser for the apartment block was set up to help fix the damage caused by the missile strike (savemyhome.in.ua/en). The founder was not immediately available for comment.
WAR REPORTING
The war in Ukraine is well documented. The latest Reuters reporting on Ukraine can be seen (here).
Examples of Reuters imagery taken during the fighting in Ukraine and in the aftermath can be seen here and here.
Reuters has also produced numerous fact-checks addressing claims that the war has been staged.
VERDICT
False. The photos of the tower block are not fake, and the war in Ukraine is well documented.