'15-minute city' slogan on Ottawa construction site not evidence of any government policy where citizens will be 'locked in'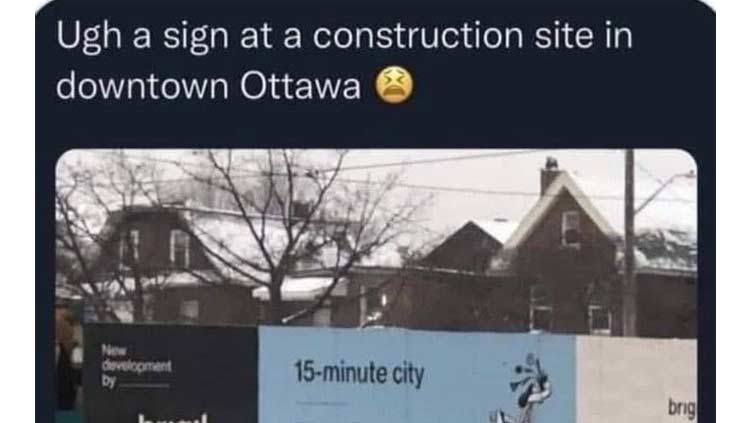 This specific 15-minute city initiative belongs to Brigil.
(Reuters) - Although the local government in Ottawa, Canada, supports the concept of '15-minute cities', an urban planning concept where all goods and services are close to all residents, a billboard shared online belongs to a private company and is not a government sign. Furthermore, the 15-minute cities concept does not suggest locking residents within certain areas or using checkpoints and fines, as social media posts suggest.
Posts can be seen on Facebook (here) and (here) and Twitter (here). They feature a photo of a billboard and text saying, "Ugh a sign at a construction site in downtown Ottawa". One post says, in part, "Ready to be confined within 15 minutes of your home? For the rest of your life?
This specific 15-minute city initiative belongs to Brigil, the developer whose logo is on the panel at 265 Catherine Street, Ottawa (here).
"It is not something that the council or local government has requested as a matter of policy", the company's director of communications told Reuters via email.
The idea is that residents will live within a quarter of an hour walk from all services, such as "grocery stores, parks, schools and entertainment". The Brigil spokesperson also said its mission is to "reduce automobile use by up to 60% and promote a sustainable and friendly lifestyle to our residents".
The 15-minute city concept is widely credited to Carlos Moreno, a city planning researcher who coined the term in 2016 (here).
David Wise, director of economic development and long-range planning for the City of Ottawa, told Reuters via email that individual companies "often use '15-minute city' as a branding and marketing tool to showcase proximity to retail, transit or other amenities to prospective buyers".
He said "15-minute neighbourhoods" are a part of the city's Official Plan (here) but Brigil's adoption of it "is a market choice and not a policy requirement".
Wise added: "The idea of 15-minute cities is not new and does not aim to limit movement across the city. It is about reducing land use regulatory restrictions to move back to how cities and neighbourhoods have always worked, and improve access to transit and local services".
Dan Luscher, founder of the 15-Minute City Project (www.15minutecity.com/), echoed this, telling Reuters "It is about enabling people to get their needs met within their own neighborhood, not confining them to that neighborhood. It is about mobility, not lockdown."
VERDICT
Misleading. The urban planning concept known as '15-minute cities' does not include plans to limit freedom of movement or fine people for leaving their neighbourhood. Posts share a private company's billboard in Ottawa, Canada.