Suramin is not a proven cure for autism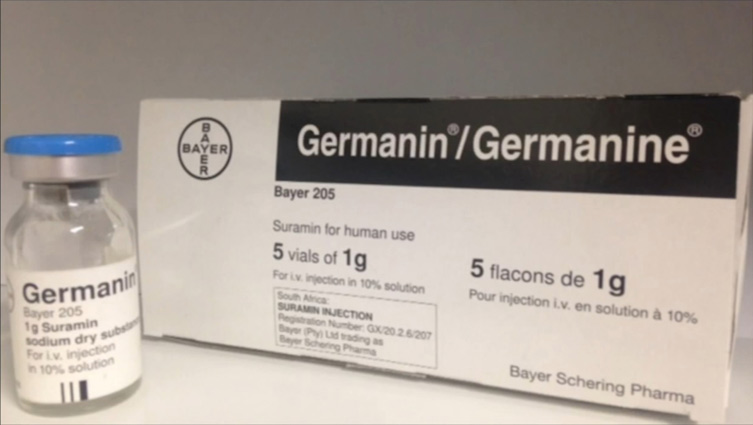 Naviaux is listed as a member of the advisory board of the company that ran the trial.
Reuters (Web Desk) - There is no proven cure for autism spectrum disorder (ASD), and an experimental drug being studied to address some symptoms of the condition has not been demonstrated in large-scale clinical trials to be effective, despite online claims that the unapproved therapy is a "cure" for ASD.
Suramin, a medication generally used to treat African sleeping sickness and river blindness, is not approved by the U.S. Food & Drug Administration (FDA) for any use, and the preliminary studies of its effect on certain autism symptoms have been too small to demonstrate whether it even works on those, experts told Reuters.
Some posts refer to the treatment having caused "non-verbal" children with autism to start speaking within hours, but without citing the source of that alleged result. The only published trial of suramin involved just 10 children with ASD, with only five receiving the drug, and did not report any such outcome.
The authors of that published study concluded the drug may have had promising, temporary effects on the five boys who received it, but the medication needed to be studied in larger trials to establish both safety and efficacy. That hasn't happened yet, autism researchers say.
The U.S. National Institutes of Health (NIH) and the Food & Drug Administration (FDA) websites say that there is no cure for ASD, and caution against using any non-approved medication to treat ASD.
There are no medications that treat the so-called core symptoms of ASD, which center around difficulties in social communication and interaction as well as repetitive behaviors. However, some FDA-approved medications can help manage related symptoms such as high energy levels or inability to focus, according to the Centers for Disease Control and Prevention.
The FDA approved the use of antipsychotics including risperidone and aripripazole to treat irritability associated with ASD. Other drugs may improve ASD symptoms, according to the NIH.
SMALL SURAMIN STUDY
A small, FDA-approved phase 1 clinical trial in 2017 tested Suramin's effect on certain "core" autism symptoms in five boys, as compared with five boys given a placebo. The study found small, temporary improvements in scores on a diagnostic assessment for autism known as the Autism Diagnostic Observation Schedule, 2nd edition (ADOS-2) examination. However, no significant changes were reported for any other tests used, and the authors pointed to the limitations of the experiment and its small size, writing that they "strongly caution against the unauthorized use of suramin" in the study's conclusion.
Dr. Robert Naviaux, the study's lead author and a professor of medicine, pediatrics and pathology at the University of California, San Diego, told Reuters that the trial found suramin might help treat symptoms of ASD, including speech and language delay, difficulty with nonverbal social communication, and restricted or repetitive behaviors or interests.
The study was based on a theory that the energy-generating machinery in cells is over-active in autism, and that surimin's action to block a molecule called ATP may help to offset the problem. More on the rationale can be read in a review article by Naviaux.
Despite the encouraging results suggesting the drug may affect autism symptoms, Naviaux said, "the study was just 10 children and just a single dose of medicine," and "doctors cannot prescribe suramin for autism until it has been tested for safety and efficacy in rigorous clinical trials, and approved for this use by the FDA."
Some users online say that suramin is found in pine needles, but Naviaux says those claims are also false, as it is a "complex manmade medicine and is not present in pine needles or any other natural product."
A trial in 54 children in South Africa of intravenous suramin reported positive improvements in a 2022 press release , although the data have not been published.
Naviaux is listed as a member of the advisory board of the company that ran the trial.
LACKING DATA

Suramin has shown "some promise in treating some of the symptoms" of ASD in preliminary findings, Mark Cavitt, the medical director of pediatric psychiatry services at the Johns Hopkins All Children's Hospital, told Reuters by email. But it "will need to proceed through FDA stage II and III trials with many hundreds of patients enrolled to be adequately tested for safety and efficacy."
While there is no single cure for ASD, Cavitt said, "it's important to continue research on novel approaches to treating symptoms of autism that are safe and effective," because "with multiple FDA approved choices we can continue to successfully treat increasing numbers of those with autism."
James McPartland, a professor of child psychiatry and psychology at the Yale Child Study Center, told Reuters that "at present, suramin would not be considered a research-supported treatment for autism at all," and the 2017 study on suramin "has not been replicated in an adequately sized group of children."
McPartland said it is important to "consult with a medical professional when evaluating potential treatment options" because there is "a long history of unrealistic claims for the potential benefit of untested treatments for autism, and some can be harmful."
Suramin is not a proven cure or treatment for autism spectrum disorder (ASD), but preliminary research suggests it might have promise to improve symptoms associated with ASD.