Video showing thick dark clouds predates February 2023 train derailment in Ohio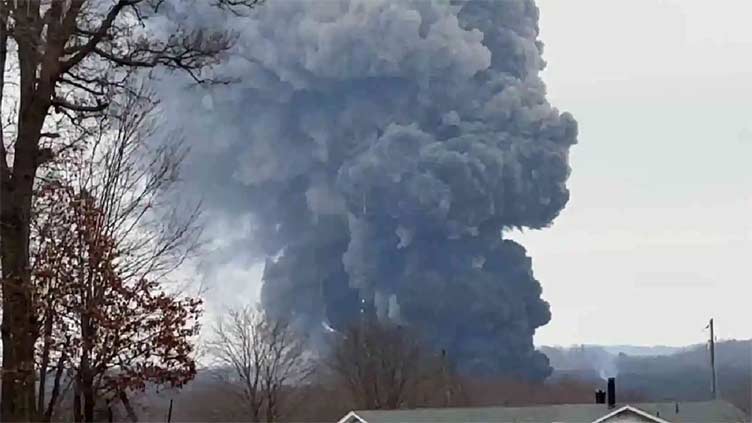 A clean-up process is underway since a train carrying toxic materials derailed on Feb. 3
(Reuters) - A video which has been circulating online since at least November 2022 has been shared to falsely claim it shows the aftermath of the Norfolk Southern Railroad-operated train derailment in East Palestine, Ohio, on Feb. 3, 2023.
A clean-up process is underway since a train carrying toxic materials derailed on Feb. 3 causing a fire that sent plumes of smoke over the Ohio town and which forced thousands of residents to temporarily evacuate, Reuters reported (here), (here).
"This is not UFO. This is Ohio's Chernobyl," states a tweet sharing a video of a dark, ominous cloud (here).
The claim has also been shared on Facebook (here.)
The video dates to at least Nov. 2022. It was shared on TikTok by the same user in November 2022 (here) and January 2023 (here), with one caption that says, "That one time stranger things clouds rolled in Oregon" and another that includes the hashtag #portlandoregon.
The TikTok user did not immediately respond to a Reuters request for comment. She replied to a comment on the video saying, "This has absolutely nothing to do with Ohio this video was taken last year." (ibb.co/xLxSbfk)
In another TikTok video, the user said the video was filmed in Jantzen Beach Center, Portland.
Reuters found the spot the video was most likely filmed from on Google Street View (bit.ly/3XIrU4h).
VERDICT
Miscaptioned. The video does not show the sky over Ohio following the Feb. 3 train derailment, it dates to at least November 2022