10.8 million 'unaccounted for' ballots in 2022 midterm in California not an indication of fraud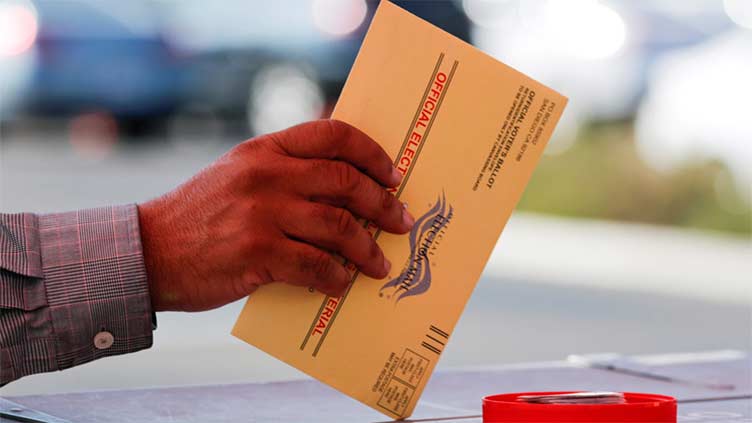 10.8 million 'unaccounted for' ballots in 2022 midterm in California not an indication of fraud
(Reuters) - The state of California automatically sends ballots to all registered voters, who are then permitted either to vote by mail or in person. During the 2022 midterm elections in California 21.9 million ballots were sent out and 11.1 million people voted, leaving around 10.8 million ballots sent to voters who did not cast them.
Posts on social media are sharing this figure alongside claims that it is indicative of election fraud. However, there has been no evidence presented that those uncast ballots were used for fraud. Several other U.S. states and foreign countries also mail ballots to all voters, a practice that always implies that a percentage of ballots sent out will not be used. The office of California's Secretary of State said there were ample fraud protection measures in place.
A Facebook user shared the claim that 10.8 million mail in ballots were "Unaccounted For" in 2022 and wrote: "A CLEAN ELECTION RIGHT? NOTHING HERE RIGHT? NO EVIDENCE OF FRAUD RIGHT? TRUMP SUPPORTERS ARE DENIERS HOW SILLY RIGHT? DEMOCRATS 1001 WAYS TO CHEAT THE 2022 MID TERM ELECTION!!!!" (here). Another example can be seen (here).
Some of the claims link to a Breitbart article that says 10.8 million midterm ballots were "unaccounted for" in California. The article cites data and text from the conservative elections group Public Interest Legal Foundation (PILF) that says "there were more than 10 million ballots left outstanding, meaning election officials do not know what happened to them."
PILF's Lauren Bowman said that California's election officials "do not know what happened" to the ballots, adding that "some of these 10 million ballots probably ended up in landfills and apartment floor lobbies" and "some likely never reached the intended voter." Breitbart did not respond to Reuters request for comment but updated its article with a note that they requested comment from the California Secretary of State.
The Statement of Vote from California's Secretary of State (here) says that there were 11,146,610 total voters for the 2022 midterm election, equivalent to a 50.8% turnout of total registered voters (page 5). That leaves 10,793,664 ballots sent to registered voters who did not vote. The document also includes historical turnout figures dating more than 100 years.
Joe Kucurek, a spokesperson for the CA Secretary of State's office, described measures to prevent fraud. Voters can track and verify their own ballots (here) and (voterstatus.sos.ca.gov/). The tracking includes being able to check "when it has been mailed to them, whether it was returned to their election official, whether it was counted, and if it wasn't counted the reason for not counting it," Kocurek said.
"If a voter does not receive their ballot, they can request a replacement ballot through Election Day. This replacement ballot is subject to verification that the missing ballot was not cast," Kocurek said. A unique number is assigned to each ballot and voters' signatures are verified.
Several voting rights groups told Reuters that the safeguards in California's system, as in other states, are designed to prevent fraudulent voting, such as attempts by voters to cast more than one ballot.
If a voter requests a second vote-by-mail ballot, the first ballot would be automatically invalidated, Jonathan Mehta Stein, executive director of California Common Cause, a democracy and voting rights organization, told Reuters. "There's controls at every step of this process to make sure people aren't double voting."
If a ballot does not reach its intended recipient, the state provides alternative ways to ensure registered voters can still vote, said Mindy Romero, founder of the Center for Inclusive Democracy at the University of Southern California.
VERDICT
Misleading. Nearly 10.8 million mail-in ballots were sent to voters who did not vote in the 2022 general election, but there has been no evidence that this represents fraud, as said by social media posts. All California registered voters receive ballots, and the percentage of those ballots that were cast was similar to turnout in past midterms.