Shady dealings: Haseeb Pasha's 'Tamgha-e-Imtiaz' goes to wrong recipient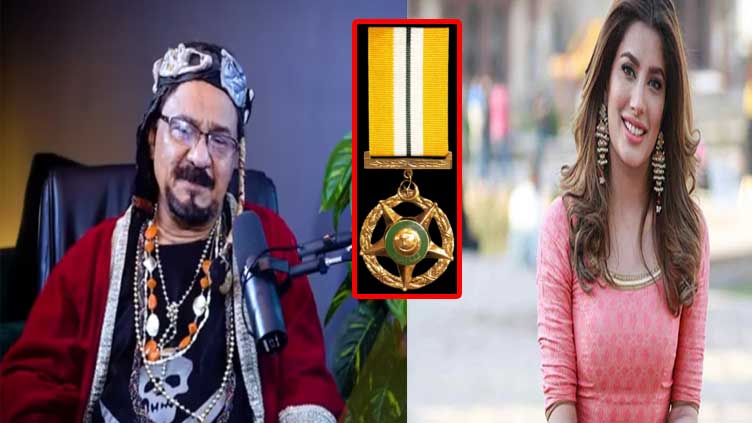 Entertainment
He was nominated for this award for four continuous years
LAHORE (Web Desk) - Haseeb Pasha, renowned for his role as 'Hamoon Jadugar' in the popular Pakistani drama "Ainak wala jin," recently made shocking claims during a viral interview on Instagram. Mr Pasha revealed that his prestigious honor, the "Tamgha-e-Imtiaz" (Medal of Excellence), was wrongly awarded to actor Mehwish Hayat.
In the interview, Mr Pasha expressed his astonishment, stating that he was informed that the award intended for him was instead given to Ms Hayat.
He further shared details about his interaction with Atta-ul-Haq Qasmi, the former chairman of Al-Hamra Arts Council, who had watched his drama series multiple times. Mr Qasmi, upon assuming the chairmanship, had informed Mr Pasha that his exceptional work merited the "pride of performance" award.
While taken aback by Mr Qasmi's statement, Harron Pasha admitted that he felt immensely delighted. He was subsequently informed that his name had been submitted to Islamabad after receiving approval from a 16-member committee.
However, to Mr Pasha's dismay, his name was inexplicably removed from the list in Islamabad. He had been considered for this honour for a period of four years, only to discover that on the day of the award ceremony, it had been bestowed upon a deceased artist.
Mr Pasha, who is widely recognized as Hamoon Judugar, voiced his frustration and lodged a complaint, stressing that he had been informed that Mehwish Hayat, an actor who had appeared in a drama, had received his award.
He expressed his confusion, questioning the absence of recognition for someone who had dedicated four decades of their life to working for children, implying to his own contributions. Instead, the award seemed to have been given solely based on Ms Hayat's commendable performance in a drama series.
Expressing his annoyance, Haroon Pasha lamented the decision-making process in Islamabad, expressing his perplexity regarding the individuals responsible for repeatedly removing his name from the list.
He implied that some influential figures, whom he referred to as "emperors and giants," held sway over the selection process.
These statements have raised questions about the transparency and fairness of award allocation in Pakistan's entertainment industry.