Shah Rukh Khan's 'Pathaan' is set to release on Amazon Prime on March 22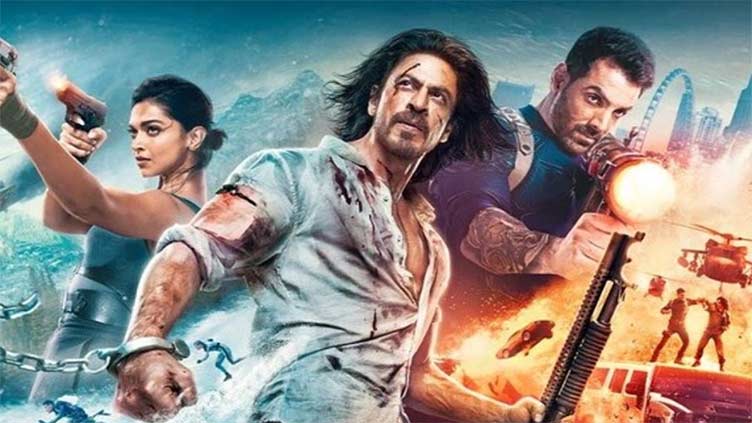 Entertainment
The digital premiere of Pathaan on Amazon Prime Video may feature bonus content for fans.
BOLLYWOOD (Online) - Shah Rukh Khan and Deepika Padukone's Pathaan is set to have a digital release on March 22, merely 56 days after its theatrical release. The film will be available on Amazon Prime Video and may include deleted scenes that were not present in the theatrical version.
Director Siddharth Anand revealed that certain scenes, including one explaining Pathaan's origins, were edited out of the theatrical version.
According to a report by Peeping Moon, the digital premiere of Pathaan on Amazon Prime Video may feature bonus content for fans.
In an interview, Siddharth Anand hinted about the lead character's backstory and religion, as per Hindustan Times. In a particular scene, Deepika Padukone's character Rubai asks Shah Rukh Khan's character Pathaan if he is a Muslim. Pathaan then explains that he was given the name Pathaan after he helped rescue children in an Afghan village.
Anand said, "It's the synergy that Abbas (Tyrewala), Sridhar (Ragahavan), Adi (Chopra), and I have. We have the same belief system and have grown up with the same films and beliefs. We share that. So, the fact that he doesn't have a name, and he's found in a theatre that was actually called Navrang… This got edited out, but you might see this in the OTT version… None of us looks down upon it, none of us says this is cheesy."
Pathaan has become the highest-grossing Hindi film of all time. Produced by Yash Raj Films, Pathaan was released in Indian theaters and other countries like the US, Canada, UAE, Egypt, UK, Australia, New Zealand on January 25, 2023.
The film's cast also includes John Abraham, Dimple Kapadia and Ashutosh Rana, and its music has been composed by Vishal-Shekhar. In a separate interview, Anand shared details about a special cameo scene featuring Salman Khan and Shah Rukh Khan on a train. He revealed that he had asked Salman to shout "bhaag Pathaan bhaag" and to do it like "bhaag Arjun bhaag," a reference to Salman Khan's 1995 film Karan Arjun.
Earlier, the film's success in theatres and anticipation for its digital release had created a lot of buzz. Now, fans can't wait to see what additional surprises the director has in store.