Gender diversity is essential for Pakistan's roots: Barrister Shahida Jamil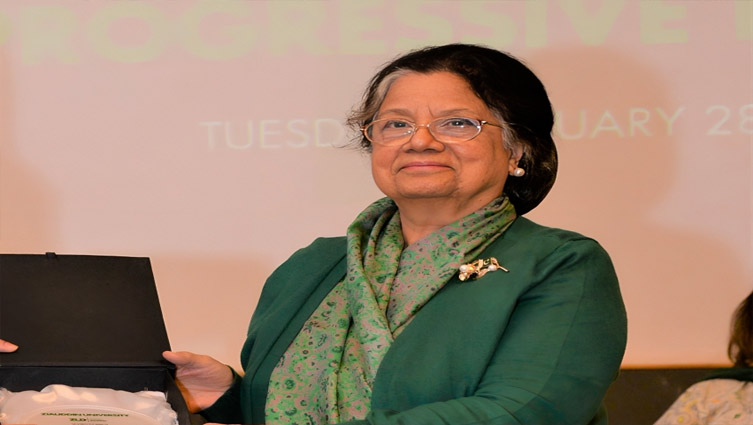 Entertainment
Prominent female voices who shared their views on women empowerment.
KARACHI (Web Desk): "I see gender disparity even in this auditorium. There are about 15 men who are attending this session, seems like the rest did not care enough to learn about gender diversity and empowerment. It's really disappointing. I can see many women present here, but it's more important for a man to understand the problems faced by women and young girls in this society," said Mahtab Akbar Rashidi, the former member of the Provincial Assembly of Sindh at the 17th Interactive series on ZU Dialogues held at Ziauddin University.
The panel discussion, titled, 'The Power of Gender Diversity in Shaping a Progressive Pakistan' aimed to "raise awareness about the importance of gender diversity", and create a more equitable society where individuals of all genders have an equal access to opportunities and resources.
The discussion included many prominent female voices who shared their views on women empowerment, including Mahtab, Ameena Saiyid, founder of the Adab Festival, Dr Nida Hussain, Pro-Chancellor of Ziauddin, and Barrister Shahida Jamil, the former Federal Minister of Law.
The interactive session was initiated by highlighting a holistic image of gendered-based issues in Pakistan and urged others to "allow" women to get out of their restrictive boxes, it still concluded the conversation with a set of guidelines laid out for an empowered woman to be "dignified, strong and deserving of respect from others."
Taking the lead, Barrister Shahida opened with her speech. "With due apologies, I reject the word, 'progressive'," she began. "When we use that word, we're entering an ideological zone. Are we insinuating that we are shaping gender diversity through a socialist Pakistan or is there a different implication? This word brings us back to that endless debate regarding the left and right beliefs that will ultimately destroy the country."
She further added, "The question should be, 'How can we inculcate gender diversity in Pakistan?' This will be inclusive of our ideologies that do not have any place for discrimination. The biggest fight that brought about the partition of India in 1947 was the discrimination that existed within the nation. Therefore, having gender diversity is essential to staying true to Pakistan's roots. It's something we have to support and Quaid-e-Azam was clear on that once he brought his sister into politics."
Shahida also believed that the Global Gender Gap Report 2021 was insufficient. "I found the analysis far more orientated to the urbanised environment, which is inspired by Western countries," she commented. "When you look at Pakistan, there are some stark realities here in the rural areas. The agriculture sector in Pakistan is vast and women work long hours in the field, but the report does not recognise them as working women. If we want to encourage diversity in Pakistan, we have to build the infrastructure to support it, and the electricity to back it up. We need a multi-dimensional approach to fix the gap."
Mahtab concurred with the former Federal Minister of Law. "You can't impose metropolitan cultures and norms on the rural areas in Pakistan; it's a completely different world," said Rashidi. "I've witnessed it myself, how women work for hours in the fields and then come home to face abuse and taunts by their mothers-in-law or husband. It is disheartening to see women being each other's worst enemies and not supporting each other. Maybe our elders have faced this too in their lives and consider it normal."
She also highlighted other major obstacles that hinder people from becoming more equal, such as child marriages. "13-year-old girls are expected to birth and raise children, while also managing their household. How can we expect a child to fulfil these responsibilities, while her body hasn't been fully developed to bear such pain? That's where the legislature comes in, and unfortunately, only one province has passed the law which requires women to be at least 18 years old before their marriage," she shared.
During the back-and-forth discussion, Ameena also stressed the different forms of labour, that still go unnoticed by people. "Women must be formally brought into the workforce, including those who work from home and are not officially recognised, such as those who do embroidery, stitching, and garment work alongside their household duties."
Acknowledging the rising inflation in Pakistan, she also explained how change is unstoppable in Pakistan, as a single person's income is becoming inadequate to run a household. "From a social standpoint, it is crucial that women not only have opportunities but also receive equal pay, promotions, and chances to grow. The economy of Pakistan will also drive change as both men and women need to work and earn money in this inflation," she concluded.
Nida also pointed out how the indoctrination of such discriminating norms starts within our homes. "It all begins from the home, where children are introduced to various notions about genders. As mothers, primarily women set the tone of their houses and most of these seeds of thoughts are sowed by them as well. So, if we want to close the gender gap that exists within our society, the key is to educate women and empower them with progressive ideals. It starts from basic concepts, such as picking up a plate is not only a woman's responsibility."
Before concluding the discussion, Shahida had an interesting reply to a student's question, who asked how can she change the protective men in her family and confront them with vital issues. "I don't think anyone here will agree with me, but men do have sensible instincts. We tend to think their instincts are just male-orientated but their sentiments are built from realities around us. There is a difference in sexes and in nature, they both have their own attractions. And men are aware of these instincts as they move around the world much more than women, so when women do go out in the world, they are scared for them. They do love us and are protective of us."
She also gave an example of a lawyer's dressing in Pakistan and how they deliberately wear black and white to avoid any attraction from their counterparts. "Laws alone can't stop the problem, a part of that also depends on how you behave and interact. How you laugh at somebody's joke and how much you please and flatter them. Everything depends on gender-to-gender interaction. Do it the right way, and keep it work-orientated. The moment you lose this balance, you will face issues that men recognise," she concluded.