Snoop Dogg, Gloria Estefan, Sade make it to Songwriters Hall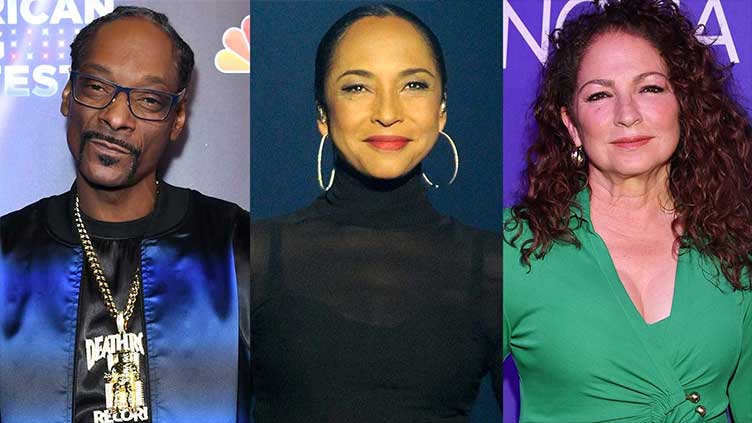 Entertainment
Snoop Dogg, Gloria Estefan, Sade make it to Songwriters Hall
NEW YORK (Web Desk) — Snoop Dogg, Gloria Estefan, Sade, Jeff Lynne, Glen Ballard, Teddy Riley and Liz Rose have been chosen to join the Songwriters Hall of Fame, a class that includes the writers of such varied hits as "Man In the Mirror," "Drop It Like It's Hot" and "Rhythm Is Gonna Get You."
The seven songwriters from the class of 2023 will be inducted at a gala June 15 at the Marriott Marquis Hotel in New York City.
Snoop Dogg, whose hits include "Drop It Like It's Hot" and "Gin & Juice," will be joining such rappers as Missy Elliott and Jay-Z in the hall. Estefan is credited for popularizing Latin rhythms with such crossover smashes as "Rhythm Is Gonna Get You" and "Let's Get Loud."
The inductees include soul-jazz vocalist Sade, whose 1980s soft rock hits include "Smooth Operator" and "The Sweetest Taboo," and Lynne, of ELO, who penned "Mr. Blue Sky" and "Evil Woman."
Ballard helped write Alanis Morissette's monster 1995 album "Jagged Little Pill" and was involved in the recording and writing of several Michael Jackson albums, including "Thriller," "Bad" and "Dangerous."
Riley, the singer, songwriter and producer, is credited with creating New Jack Swing and its top anthems like Bobby Brown's "My Prerogative" and Keith Sweat's "I Want Her." Rose co-wrote many songs with Taylor Swift, including "You Belong with Me," "Teardrops on My Guitar" and "White Horse."
The 2023 class "represents not just iconic songs but also diversity and unity across genres, ethnicity and gender, songwriters who have enriched our lives and, in their time, literally transformed music and the lives of billions of listeners all over the world," said Nile Rogers, the hall's chair.
Eligible voting members late last year turned in ballots with their choices of three nominees from the songwriter category and three from the performing-songwriter category.
Some of the 2023 nominees who will have to wait include The Doobie Brothers, R.E.M., Heart, Blondie, Bryan Adams, Patti Smith and Steve Winwood.
The Songwriters Hall of Fame was established in 1969 to honor those creating the popular music. A songwriter with a notable catalog of songs qualifies for induction 20 years after the first commercial release of a song.
Some already in the hall include Carole King, Paul Simon, Billy Joel, Jon Bon Jovi and Richie Sambora, Elton John and Bernie Taupin, Brian Wilson, James Taylor, Bruce Springsteen, Tom Petty, Lionel Richie, Bill Withers, Neil Diamond, and Phil Collins.